Small vendors in Dhaka hammered by rough weather
BI Report || BusinessInsider
Published: 17:13, 6 December 2021 Update: 18:30, 6 December 2021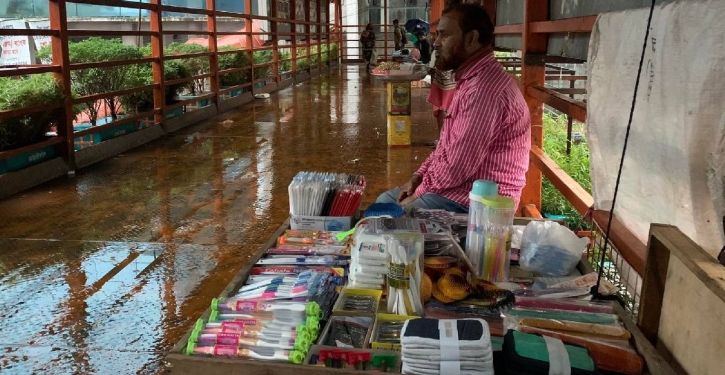 A vendor sitting idle on the footbridge near Farmgate. Business Insider Photo
The untimely deep depression in the Bay that caused heavy rain across the country on Monday has appeared as a curse for the small vendors in Dhaka.
Many of these vendors could not set up their makeshift shops, which they mostly do on the footpaths, because of incessant rain.
They have become shattered as they mostly earn their livelihoods on a daily basis from running these small street shops.
During a visit at the Kawran Bazar and adjacent areas, the Business Insider Bangladesh spoke to a number of vendors who lamented their miseries caused by the rain.
Din Mohammad, a tea stall owner at Kawran Bazar told the Business Insider Bangladesh that he was witnessing fewer customers today (Monday).
"I used to sell around Tk 1,500 by noon every day starting from 9am, but today I have sold only Tk 600 so far (3.30pm)."
"Now, if this continues, I will be unable to pay the bills of the suppliers," he added.
Jabir Uddin, another small item seller on a footbridge near Farmgate, said he was unable to sell a single item the whole day.
"The number of people using the bridge is fewer now. So, I couldn't sell anything today and don't know if I will be able to in the rest of the day."
Kamal, a fruit seller in Kawran Bazar, said he also experienced a decline in sales on Monday for the rough weather.
"Usually, my shop always remains crowded. But the number of customers is less today for the rain," said Kamal.
However, he remained tight-lipped regarding his everyday sales amount.