BAPEX Irregularities-5
Employees pocketed Tk 1cr in overtime allowance flouting rules
Hasan Azad || BusinessInsider
Published: 21:03, 24 November 2021 Update: 11:01, 26 November 2021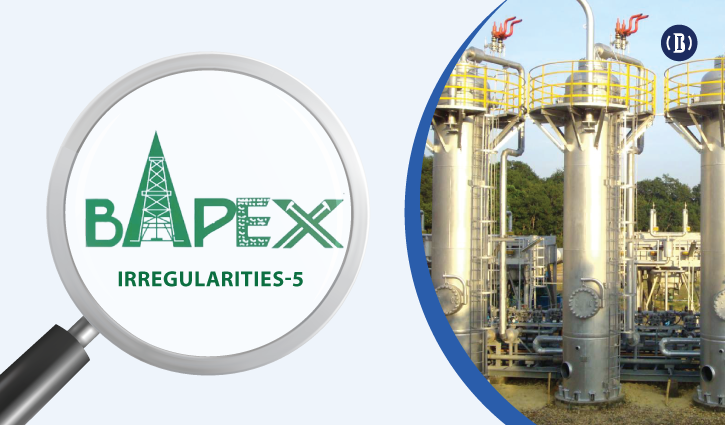 Photo illustration: Business Insider Bangladesh
The Bangladesh Petroleum Exploration and Production Company Limited (BAPEX) has paid more than a crore taka in overtime allowance to its employees, flouting service rules.
The financial abnormality came up in the Audit Inspection Report - AIR of 2019-20 fiscal years. The office of the Comptroller and Auditor General of Bangladesh conducted the audit and termed this irregularity as a 'serious financial anomaly.'
The audit report says, despite being ineligible, BAPEX overpaid allowances to its employees, causing a financial loss of Tk 1,23,80,696 to the office. The irregularities were found after analysing cash books, bills, vouchers and the bank statements.
According to a Cabinet Division directive, only the employees of lower tiers such as drivers were entitled to the overtime allowance. But, by disregarding the directive, BAPEX paid overtime allowance to all the officials and employees of the company.
However, the loss incurred by the organisation is recoverable, said the audit team.
The audit report further said no employees were seen doing overtime in the office after the designated office hours. In fact, the audit team did not find anyone among the beneficiaries who stayed in office after 5 pm.
As employees commute through the office buses, no employees stay in office after the designated office hours (5.00pm). But the employees had received overtime allowance.
The audit team sought BAPEX's response on the matter.
Bapex claimed in their response that the employees worked overtime on various working days with the approval of the department heads. And, on the weekends, appropriate authorities had to authorise the extra hours.
According to the standard rules, the third-class employees are generally allowed to work overtime for a maximum of 10 days per month, while the fourth-class employees are allowed to work overtime for a maximum of 13 days per month.
Bapex also said that there are exceptions to the rules for the employees serving the security section, branch offices and as general managers.
However, no overtime allowances were paid to any employee without the approval of the appropriate authority and without signing on the attendance sheet.
Bapex also requested the audit team to resolve the audit objections.
However, the audit team was not satisfied with the response presented by Bapex. In order to prevent such irregularities in future, the audit team strongly recommended departmental action against those involved, and that the objectionable money should be collected and deposited into the funds of the organisation.