110 SUVs imported under carnet de passage to be auctioned
BI Report || BusinessInsider
Published: 03:13, 13 October 2021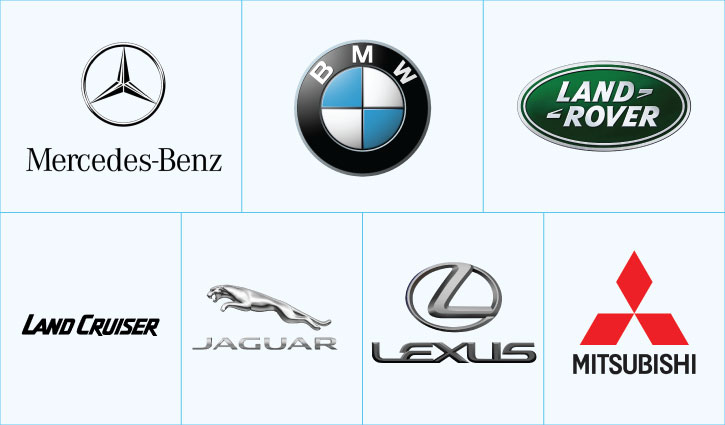 Logos of different brands
The government will auction 110 luxury vehicles that were brought into the country under carnet de passage facility, an international customs facility that allows travellers to import their own vehicles without paying any duty.
Chattogram Customs House issued a notice in this regard on Monday. In addition to the traditional auction system, this time bidders can participate through e-auction that will be held on November 3–4.
Brands of the vehicles include BMW, Mercedes-Benz, Land Cruiser, Land Rover, Jaguar, Lexus and Mitsubishi.
"Importers did not come to release these vehicles. So, we have decided to sell those to reduce congestion at the port," Md Al-Amin Hasan, deputy commissioner (Auction) of Chattogram Customs House, told the Business Insider Bangladesh on Tuesday.
The carnet de passage has allegedly been abused by some quarters for years.
Under the facility, a person is permitted to use the vehicle for one year on condition that he/she will re-export those vehicles at the end of the stay. Earlier, many cars imported under the facility were traceless also.
Usually, non-resident Bangladeshis, foreign tourists, diplomats and persons entitled to special facilities import luxury vehicles under the facility. But customs found that many of those cars were never re-exported as per the conditions.
As Bangladesh levies hefty duty – from 100 percent to 500 percent or more - on import of cars, some people try to bring sport utility vehicles (SUVs) using the carnet de passage facility, an official of the Chattogram Customs House said.
Earlier in 2013, the National Board of Revenue had scrapped the facility in 2013 after it detected some unscrupulous importers were using it to evade taxes.