Some Covid-19 stimulus bundles show very poor performance
Pre-Shipment Debt Refinancing Programme uses 7.2 % loan
Asif Showkat Kallol || BusinessInsider
Published: 17:43, 11 October 2021 Update: 19:43, 11 October 2021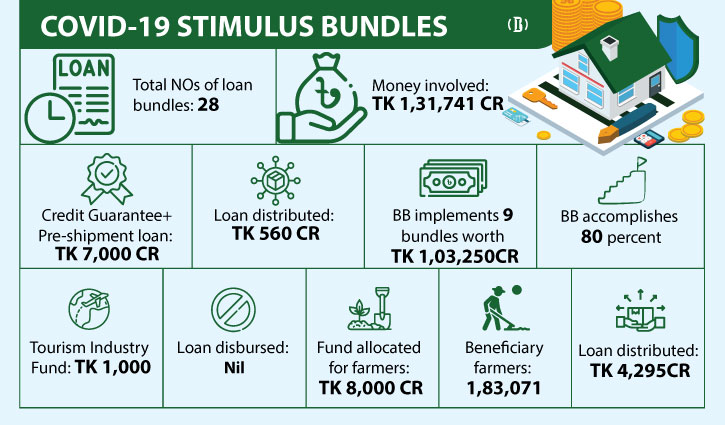 Infograph: Business Insider Bangladesh
A meagre 8 percent of the Covid-19 impact mitigation credit offered to small and medium enterprises was used until August 31 this year, statistics show.
The government had announced Tk 7,000 crore under credit guarantee scheme and pre-shipment loan refinancing program to give a leverage to those SME sectors to face the fallout of the super deadly coronavirus across the country. Some Tk 560 crore was disbursed.
Not a single taka could be disbursed to the hospitality industry out of a Tk 1000-crore fund due to lack of loan distribution policy. And, only Tk 7 crore was disbursed from the 'Workers Support for RMG and Leather Sectors Fund worth Tk 1500 crore. As the covid-19 left a trail of devastation, the directorate of labour under the ministry of labour and employment is now securitizing workers who have lost jobs, officials said.
"We are reviewing implementation of the packages including loan packages meant for the entrepreneurs of the tourism industry, workers support fund, extension of the program for the old age pension and divorced women in 150 upazila," an official of the finance division, said.
He said after identifying the causes for slow loan disbursement, the Ministry of Finance will ask the other ministries concerned to speed up implementation of the stimulus packages.
Meanwhile, the government announced a total of 28 incentive packages worth Tk 1,31,741 crore for salvaging manufacturing sectors battered by the Covid-19 pandemic during the last one and a half years. Of this, nine packages worth Tk 1,03,250 crore are being implemented through Bangladesh Bank. In more than a year, the total implementation rate of these packages came to more than 80 per cent, data shows.
A review report reveals that an incentive package worth Tk 82,382.70 crore has been distributed to the Covid-19 affected businessmen and entrepreneurs until August. As such the average implementation rate of the seven packages stood at 79.79 %. However, the implementation rate of two packages worth Tk 7,000 crore remained extremely poor.
One of the two lagging packages in implementation is the 'Pre-Shipment Debt Refinancing Program' This Tk 5,000 crore fund was supposed to provide loan assistance to export-oriented industries and businesses. Its implementation had started in April last year as Bangladesh Bank had asked some 31 banks for aiding those targeted groups for refinancing. Until August this year, only Tk 360 crore has been distributed from this package to the exporters and the rest Tk 4, 640 crore is sitting idle with the banks.
In other words, the implementation rate of the package is 7.20 percent. The term of the loan taken from this package is one year. Banks will charge 3 percent interest from Bangladesh Bank, and banks will charge their respective customers 5 percent interest.
Exporters say some of the conditions of the packages seemed 'unrealistic' to comply with. That is why the pace of implementation of these packages is slow. Mohammad Hatem vice-president of Bangladesh Knitwear Manufacturers and Exporters Association told the Business Insider Bangladesh that the notification issued by Bangladesh Bank for disbursement of the package was not in line with business reality.
"It is not possible to take money from this package by fulfilling the conditions. In order to implement this package successfully, Bangladesh Bank must change the prerequisites," he said.
The government also announced a Tk 2,000 crore 'Credit Guarantee Scheme for SMEs' to help small and medium entrepreneurs. Bangladesh Bank issued a notification on July 26 last year to implement the package. A total of 31, 300 applications were received until August to avail the credit and only Tk 29 crore could be spent from this package. In other words, the implementation progress of this package in the last one year is only 1.46 per cent.
However, apart from these two packages, the implementation rates of the other bundles are quite good. A 'Special Fund for Export Oriented Industries' was announced in April-June last year to pay salaries to the workers and employees of the export-oriented industries. The service charge of this package of Tk 5,000 crore is 2 percent. The factory owners have paid their workers' wages with this loan. However, the money ran out before June's salary could be paid. Then in two instalments Tk 2,500 crore and Tk 3,000 crore were added to the fund.
Under the package, the Export Development Fund (EDF) facility was increased from $350 crore (Tk 29,750 crore) to $500 crore (Tk 42,500 crore) to support export-oriented industries and businesses. As a result, an additional amount of $ 150 crore (Tk 12,750 crore, considering 1 dollar equals to Tk 85) was added.
This specific package is being implemented through 57 banks. Some 7,800 exporters availed a total of Tk 21,090 crore in credit until August 31. In other words, the implementation rate of this package is 99.25 percent.
In addition, an incentive package of Tk 33,000 crore which now amounts to Tk 73,000 crore dubbed low-interest working capital was announced for the affected large industrial and service sector companies. From this package until August 31, a total of Tk 33,099 crore could be distributed among 3,500 clients. The implementation rate of this package is 98.55 percent. Under the same package, Tk 7,000 crore has been allocated for Bangladesh Economic Zone Authority (BEZA), Bangladesh Export Processing Zones Authority (BEPZA) and Class A, B and C industries located in Bangladesh Hi-Tech Park. But only Tk 122.37 crore has been distributed as loan from this allocation. The 'A' class institutions located in these places are wholly owned by foreigners, the 'B' class institutions are joint-ventures and the 'C' class institutions belong to home entrepreneurs.
In April-May 2020, the government had announced a bundle of Tk 2,000 crore to pay partial interest against the interest on loans suspended by commercial banks. Until July, interest subsidy of Tk 1,390 crore could be allocated in favour of 72,82, 253 clients.
Meanwhile, a package of Tk 20,000 crore was announced to provide low-interest working capital to the affected small, cottage and medium enterprises (CMSMEs). But, later another Tk 20,000 crore was added to the fund. From this package, until last July through August Tk 15, 725 crore was distributed in favor of 1,00,121 entrepreneurial organizations. In other words, the implementation rate of this package is above 80 percent.
Besides, the low interest rate farmers' revolving loan worth Tk 5,000 crore was formed by the BB. Later became a Tk 8,000-crore fund. At the end of August, the banks distributed among a total of 1,83,071 farmers Tk 4,295 crore, reaching a 85.90 percent implementation rate. The government has also created a Tk 3,000 crore refinancing scheme for low income businessmen and farmers. The banks have distributed a total of Tk 1,747 crore until August 31 among 3,71,852 farmers and small businessmen with an implementation percentage of 58.23% .
Spokesman and executive director of Bangladesh Bank, Sirajul Islam, told Business Insider Bangladesh that the central bank is satisfied over some incentive bundles distributed by the commercial banks. But, some businessmen are not interested in stimulus loans because of harsh conditions.