Tourists book hotels to visit Cox's Bazar, Rangamati and Sajek
BI Report || BusinessInsider
Published: 04:29, 28 September 2021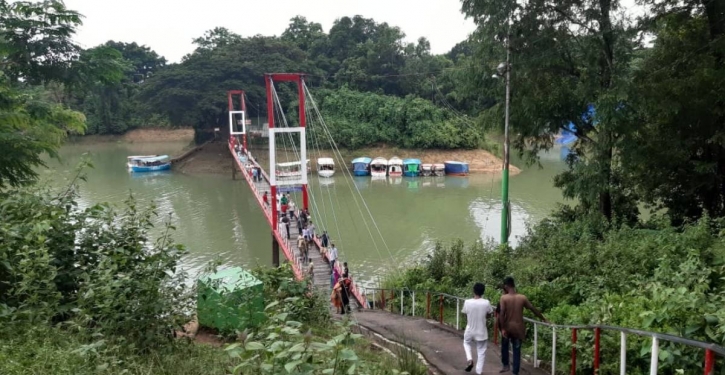 A view of hanging bridge in Rangamati. Photo: File
The tourism sector is gradually shining as Covid-19 lockdown has gone and travelers are coming to the port city, Chittagong Hill Tracts and beach town of Cox's Bazar, from across the country.
The number of travelers are increasing every weekend in Chattogram, Cox's Bazar, Sajek (Khagrachori) and Rangamati hill district, hotel owners said.
They said middle income people are out and they are booking hotels to stay a couple of nights in Cox's Bazar.
"Almost 80 percent of the employees have come back to their work and the rest will be joining within the next few months," said Kalim Ullah, general secretary Of Hotel Officers' Association of Bangladesh.
The peak season---October to March--- will be better this year in terms of revenue than the previous one as people have been exhausted living in Covid-19 confinement, he said.
Cox's Bazar has a total of around 500 Hotels, motels and guest houses and hotel owners are expecting moderate crowds next month, Kalim said.
Farhana Aditi, an online trader, who used to visit Cox's Bazar thrice a year, came to stay in Hotel Cox's Today after 18 months.
"I love Cox's Bazar because of its clean accommodation and seafood restaurants," Farhana said adding, she feels happier this time as her 9-month old daughter is accompanying her. "She has raised my vacation vibes," she told Business Insider Bangladesh on Monday on mobile phone.
Boat owners, restaurateurs and group tour operators are also happy. They said people will be coming to see Kaptai, Shubholong waterfall, Rangamati Parjatan Hanging Bridge, Paulway Park, Divine Resort, Bandarban and Patenga Beach to jump start the hospitality industry.
Fazle Elahi, editor of Daily Parbatto Chattogram said people have started coming to Rangamati for a daylong tour and they are going to Khagrachari, Sajek to stay at least a night. He said he is a bit concerned about people's unwillingness to maintain health guidelines.
"I know they are enjoying it a lot because they had nowhere to go amid the lockdown."
Prodip Kumar Ganguly, Deputy Manager (PR and Marketing) of Bangladesh Parjatan Corporation said covid-19 has hit the sector hard and they are trying to cope as the lockdown was withdrawn.
He said some infrastructural developments are taking place in Cox's Bazar, Sylhet and Khulna districts to attract more tourists and that various agencies of the government are working together to improve the hospitality industry in the country.
"Easy communication, security and moderate expenses are the pre-condition for thriving tourism," said M Mahabubul Alam, President of Chittagong Chamber of Commerce and Industry.
He said the roads are well but communication facilities are not that friendly and there is a lack of security among the tourists. This is why many Bangladeshis love touring in foreign countries.
"This is the high time to think about proper planning and increase amenities for the tourists because the sector could become a good source of income for Bangladesh," the chamber leader said.