Assets of Jubok, Destiny can reimburse 60% liabilities of clients: Tipu Munshi
BI Report || BusinessInsider
Published: 22:39, 26 September 2021 Update: 22:40, 26 September 2021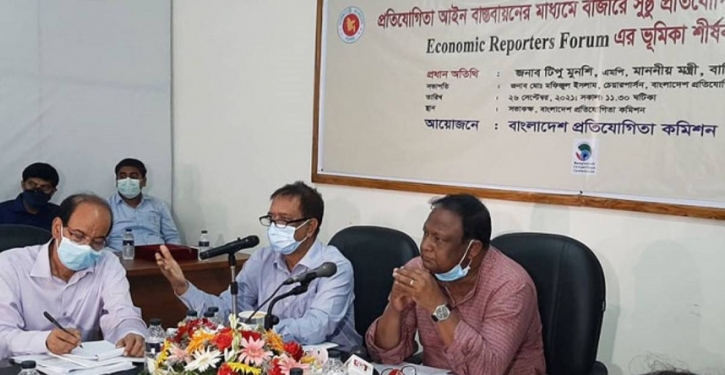 Photo: Business Insider Bangladesh
Commerce minister Tipu Munshi has said liquidated assets of the controversial companies Jubok and Destiny could reimburse 60 percent of the liabilities of their clients.
Assets of Jubok and Destiny had been appreciated over the years, Commerce minister said while addressing as the chief guest of a workshop titled 'Role of Economic Reporters Forum (ERF) in Creating a Fair Competitive Environment in the Market Through Implementation of Competition Laws' held at Bangladesh Competition Commission on Sunday.
The minister was frank to admit how he was cheated while buying a bull during the Eid-ul-Azha festival as he ordered the animal from an e-commerce outlet. "I paid Tk 1 lakh for a bull during the inauguration of an e-commerce company on the eve of Eid-ul-Azha. But the bull that was on display and that I picked was not delivered to me. I was deceived."
He said, "When a new technology was introduced, I became a victim of it."
Chairman of Bangladesh Competition Commission Mofizul Islam said a case was filed against Evali in November 2020 by the commission. "The case is pending with a court. The verdict will be delivered soon," he said
He said several e-commerce companies recently were accused of fraudulence and embezzlement. Evaly and e-Orange are two of them. "They attracted customers with a variety of offers and pledged for fast services," he said.
Competition Commission Chairperson Mofizul Islam presided over the workshop. Commission members Manzur Quader, Nasrin Begum and GM Saleh Uddin, ERF President Sharmin Rinvi and General Secretary SM Rashedul Islam spoke on the occasion.