CPD places recommendations for overcoming e-commerce challenges
BI Report || BusinessInsider
Published: 19:45, 25 September 2021 Update: 19:51, 25 September 2021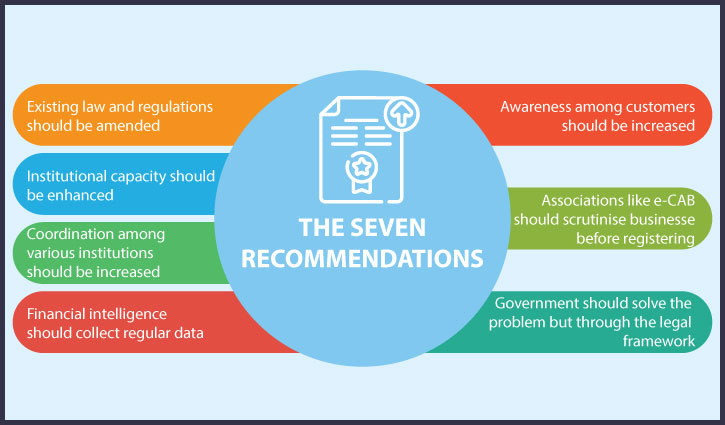 The Centre for Policy Dialogue (CPD) has placed seven- point recommendations including bringing amendments to the existing laws to address the challenges in the country's rising e-commerce sector. Photo illustration: Business Insider Bangladesh
The Centre for Policy Dialogue (CPD) has placed seven- point recommendations including bringing amendments to the existing laws to address the challenges in the country's rising e-commerce sector.
The independent think-tank came up with the recommendations at a virtual dialogue held on Saturday.
The CPD underscored the need for bringing amendment to the existing laws and regulations and implementing the rules properly for taking action against the e-commerce organisations indulged in fraudulence.
In its second recommendation, it said the institutional capacity of the relevant organisations and departments like the Ministry of Commerce, Bangladesh Bank, Directorate of National Consumers' Rights Protection, Financial Intelligence Unit and Competition Commission should be enhanced through sufficient and skilled human resources by adopting the technology.
Coordination among the various institutions including the Ministry of Commerce, Bangladesh Bank, law enforcing agencies and other relevant organisations should be increased and the role of these bodies needs to be clearly defined, it said.
Financial intelligence agencies should collect data from the e-commerce firms and share those with relevant bodies and also with the public on a regular basis to ensure accountability of the businesses and make customers aware of the activities of the e-commerce businesses, it said.
Awareness among the e-commerce customers should be increased so that they behave responsibly and do not step into the trap of dishonest e-commerce organisations.
Private associations like e-Commerce Association of Bangladesh (e-CAB) should collect information of new businesses before giving registration, assess sustainability and allow membership of the businesses by monitoring the operational process of the businesses.
And lastly, the CPD said, the government should solve the problem through the legal framework of the Company Act instead investing public money for these fraudulent companies.
CPD Executive Director Dr Fahmida Khatun noted that e-commerce has a huge potential for creating job opportunities and ensuring economic growth in the country.
Waseem Alim, founder and chief executive officer of chaldal.com, claimed that the existing framework for the e-commerce platform is sufficient enough and said no new regulatory body is required for it to address the challenges in the sector.
AKM Fahim Mashroor, chief executive officer of Bdjobs.com, echoed Alim's voice and said monitoring in this sector will have to be strengthened involving institutions like the central bank.
Selim R F Hussain, managing director of BRAC Bank, said the recent frauds in e-commerce businesses seems to have turned into investment schemes for some people and this should have been intervened earlier.
He also mentioned that there is a lack of coordination among relevant stakeholders.
CPD Chairman Professor Rehman Sobhan said such scams arise due to the lack of governance in the sector.
E-commerce experts, researchers, development practitioners, academics, business leaders, civil society activists, international development partners and journalists were present at the dialogue and shared their opinions.