Majority of garment workers worried about safety during pandemic: Survey
BI Report || BusinessInsider
Published: 20:54, 14 September 2021 Update: 20:59, 14 September 2021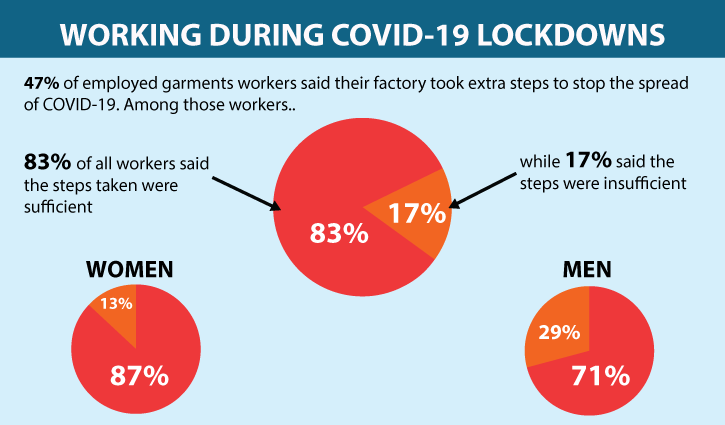 Photo illustration: Courtesy
Majority of the garment workers do not feel secure about their workplace environment as factory owners did not do enough to make them feel less-concerned, according to a survey report conducted jointly by the South Asian Network on Economic Modeling (SANEM) and Microfinance Opportunities (MFO).
"Some 84 percent of the participants who responded said that they were concerned about the current state of Covid-19 in Bangladesh," the survey found.
"Only 45 percent of the workers were given a mask to wear while working," according to the findings of the report
SANEM and MFO have been jointly conducting a project titled "Garment Worker Diaries" to collect data on the working conditions, income, expenditure, food security, wage digitisation, and health of garment workers of Bangladesh.
As part of the project, SANEM and MFO have been collecting monthly data since April 2020 of garment workers employed in different factories across the five main industrial areas — Chittagong, Dhaka City, Gazipur, Narayanganj, and Savar — of Bangladesh.
The data used for the analysis come from interviews conducted over the phone on August 6, 2021, with a pool of 1,278 workers. Of the working respondents, just over three-quarters are women, which reflect the presentation of workers in the sector as a whole. The survey focused on the effects of lockdown on garment workers and their feelings about the current state of their workplace safety and the prospect of more or less pay in their upcoming paychecks.
When asked about measures beyond mask-wearing and social distancing, only 47 percent of respondents said that their factory had taken additional steps to prevent Covid-19 infections.
Among those 47 percent respondents, 83 percent thought that the additional measures taken were adequate. Although the responses of men and women were very similar in almost all questions, they differed on this issue. Some 87 percent of women workers thought of the measures as sufficient, compared to 71 percent of men.
Asked how much money they expected to receive in their next paycheck, 63 percent of respondents thought they would be paid about the same. Some 19 percent weren't sure how much they'd be paid, while 16 percent reported that they expected to earn less than normal.
Only 1 percent of workers expected to earn more than normal, due almost entirely to having worked more overtime. Of the 16 percent of workers who expected to earn less, 75 percent of them said that the lower pay would be lockdown-related.
When asked how they are planning to cope with less money, the most common answer with 18 percent identifying this option was to cut back on food expenses, found the survey.
Amid this situation, workers are going to the factories with uncertainty about their future economic security. In this situation, concerned authorities need to take adequate steps to ensure the safety of their workers and address the concerns of their employees, SANEM said.
"To facilitate the recovery process of the RMG sector, export, and the economy as a whole, factory owners, government officials, policymakers, and advocacy groups will have to come together to prioritise the safety and wellbeing of workers," the think-tank recommends.