Chinese constructor of Karnaphuli tunnel to become its toll operator
Asif Showkat Kallol || BusinessInsider
Published: 22:51, 13 September 2021 Update: 10:36, 14 September 2021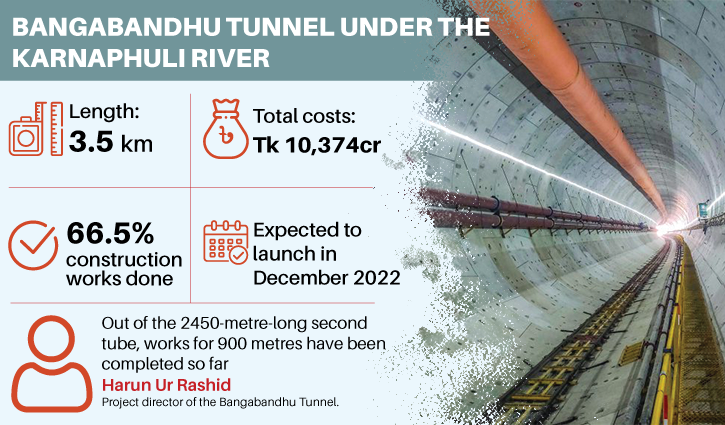 A file photo illustration of Business Insider Bangladesh in April 2021
The government is likely to appoint China Communication Construction Company Ltd (CCCC) that is building Bangladesh's maiden tunnel under the Karnaphuli River in Chattogram, as a toll operator, an official of the Bridges Division said.
The Bridges Division's proposal of appointing CCCC as the toll operator will be tabled before a meeting on the Cabinet Committee on Economic Affairs on Tuesday, to be presided over by Finance Minister, AHM Mustafa Kamal.
The proposal said the government does not have skilled manpower and technology to operate the toll house for the tunnel. Therefore, the Chinese consultant company can be appointed to run the toll plaza.
Under the provision of 75(GH) 76(2) PPR, 2008, the Bridges Division can use its discretion to offer Direct Procurement Method (DPM) for the Chinese firm entrusting it with managing the toll house.
"It can be done through a direct procurement system. So, there is no need to float tender to select a toll operator for the tunnel," it said.
The Project Director Engineer Harunur Rashid Chowdhury said over mobile phone that the 3.32-kilometre-long tunnel beneath the Karnaphuli River is expected to be ready for traffic movements by next year.
Some 80 percent of the tunnel has been completed so far. Once ready, the tunnel will be a part of the Asian Highway, he said.
He said the total length of the proposed first-ever four-lane Bangabandhu Sheikh Mujibur Rahman tunnel will be around 9.39 kilometres, including 3.32-kilometre main tunnel, adding that the total length of the approach road in the western and eastern side will be 5.35 kilometres, alongside 727 metres of over bridge (viaduct).
The PD said the length of the tube will be 2.45-km, with a 10.80 meter diameter inside the tube while the vertical clearance inside the tunnel will be 4.90 metres, respectively.
The two tubes comprised four lanes and each tube measures 35 feet wide and 16 feet high. After completion of the project, it will greatly improve the traffic conditions of Chattogram port city and promote the economic development of the country, officials said.
Prime Minister Sheikh Hasina and President of China Xi Jinping laid the foundation stone of the tunnel on October 14, 2017. Later, Prime Minister Sheikh Hasina inaugurated the boring work of the tunnel on February 24, 2019.
The estimated cost of the tunnel is Tk 103.74 billion, where the Chinese Exim Bank will provide Tk 59.13 billion as credit.
The tunnel will connect Chattogram Port and Anowara Upazila and is expected to make communication between Chittagong and Cox's Bazar easier by mitigating traffic congestions on two bridges over the Karnaphuli River.
Businesses hope there will be huge economic activities including setting up industries on both sides of the river once it is opened for movements.