Akij brothers' Adamjee hope dented by high jute price
BI Special || BusinessInsider
Published: 21:40, 12 September 2021 Update: 11:27, 13 September 2021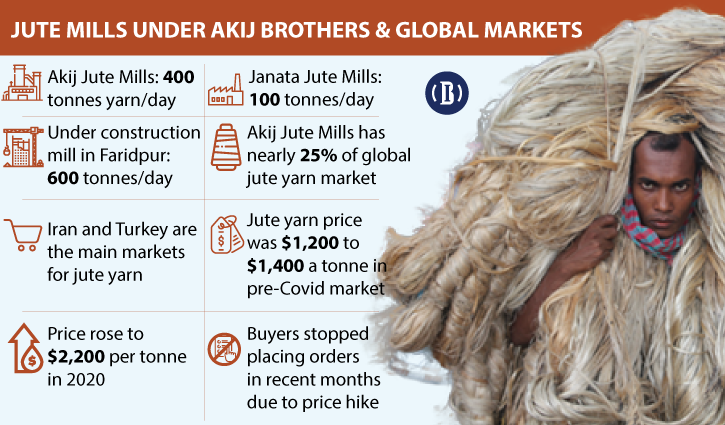 Photo illustration: Business Insider Bangladesh
Akij brothers' ambition to become 'New Adamjee of Bangladesh' has been dented, at least for the time being, due to the high price of raw jute in local market and the coronavirus-induced demand crunch for jute goods in the international markets.
Like many other jute mills, the situation has forced Akij group to cut production and run their units below capacity as they are already sitting on unsold stocks, industry insiders said.
Akij Jute Mills, which accounts for nearly one-fourth of the global jute yarn supply, has long been a market leader in the country with a capacity of producing around 400 tonnes of jute yarn per day.
Last year, Sheikh Bashir Uddin, the managing director of Akij Group, personally bought the country's second largest yarn maker Janata Jute Mills along with Sadat Jute Mills for Tk 725 crore to cement their foothold in the market.
In addition, Sheikh Nasir Uddin, the chairman of Akij Group who looks after the conglomerate's jute business, is setting up massive mills in Faridpur with a capacity to produce 600 tonnes of yarn per day. If the mills start production, their combined capacity would be enough to establish a monopoly over the country's jute business and play a crucial role in the global jute yarn market.
But, before making the strategy ready for becoming New Adamjee, Akij brothers first got a big blow in 2020 when raw jute price skyrocketed to Tk 6,500 per maund (37.5 kgs), which resulted in substantial 50 percent price spike of jute yarn to $2,200 per tonne. As a result, unsold yarn stockpiled at Akij and Janata jute mills.
"Akij Group was interested in taking the lease of some BJMC mills that were shut down last year. But the evolving situation in the jute market forced them to stop from bidding," an insider in the group told the Business Insider Bangladesh.
Now Akij Jute Mills has huge unsold stocks, which have compelled the owners not to resume production after reopening from Covid-19 lockdown, he said.
Sheikh Nasir Uddin, chairman of Akij Jute Mills, and Sheikh Bashir Uddin, managing director of Akij Group who own Janata and Sadat jute mills, were phoned and sent text messages for their comments by Business Insider Bangladesh, but none responded.
Why and how the situation emerged?
Bangladesh is the second largest producer of the natural fibre after India. Government data shows the country have been producing around 80 bales of jute per season for the last five years. Most of these jutes have been used to make yarn.
The price of jute surged to as high as Tk 6,500 per maund last season due a loss in production caused by monsoon floods. This unusual high price of raw jute increased the yarn price by over 50 percent to $2,200 per tonne.
"Unusual high prices of jute in Bangladesh forced many foreign buyers to refrain from putting orders in recent months. In fact, there was no order in the last three months,"' said Rashedul Karim Munna, president of Bangladesh Jute Diversified Products Manufacturers and Exporters Association.
Iran and Turkey are the main markets for Bangladesh's jute yarn, which is used for making carpets. But the ongoing Covid-19 pandemic has affected the businesses there like other countries.
"Yet, they (Iran and Turkey) bought jute yarn last season even at 50 percent higher price as they had pending orders to supply carpets," said Munna. "But this time they have stopped placing orders making the millers anxious about the future," he added.
Mushtaq Hussain, managing director of Golden Fibre Trade Centre, who has been engaged in jute business for around 40 years, said the price of a maund of jute shot up to Tk 6,500 last year, up from the usual Tk 2,000 to Tk 2,400.
A farmer has to spend Tk 1,600 to Tk 1,800 for producing a maund of jute, according to him.
"Farmers did not benefit from the price rise, instead some hoarders pocketed the huge sums of money from the unusual price hike last year," he said.
Hussain said jute is not an essential item that consumers have to buy amid the pandemic.
"The jute sector is really in bad shape. It seems nobody owns the industry," he said.
Gopi Kishon Sureka, managing partner of Fibre & Fiber that exports raw jute and jute goods, said jute yarn price has exceeded cotton price.
"Many buyers are now looking for alternatives to jute," he pointed out.
Last year's export:
Bangladesh exported jute and jute goods worth $1.16 billion in fiscal 2020-21, up by 31.63 percent than the same period a year earlier, according to the Export Promotion Bureau data.
Exporters attributed the export growth to the sharp increase in the value of the goods.
There was no growth in quantity as the pandemic dampened the global demand and slowed down the economic recovery in many countries, they said.
"Lower production in last season lifted the raw jute price three times higher to over Tk 6,000 a maund. We had no option but to increase the price," Shahidul Karim, secretary general of the Bangladesh Jute Spinners Association, had told the Business Insider Bangladesh in July.
Yarn and twine made by jute spinners accounted for 69 percent of the total jute and jute goods shipment, EPB data showed.
The government offers cash incentives - ranging from 7 percent (for yarn) to 20 percent (for diversified products) against jute and jute goods exports.