Covid claims 6 more lives, daily cases hit highest in 67 days
BI Report || BusinessInsider
Published: 16:00, 26 September 2022 Update: 16:43, 26 September 2022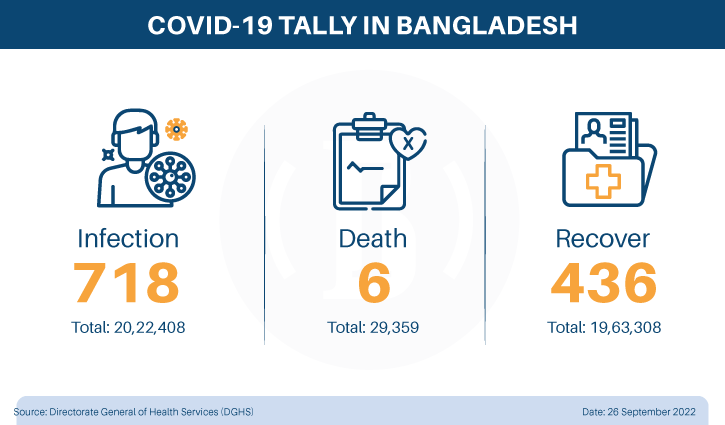 Graphics: Business Insider Bangladesh
Bangladesh sees a fresh spike in both death and infection rates of coronavirus as the health authorities recorded six more deaths and 718 new cases of the virus in the last 24 hours till Monday morning.
The number of daily cases on Monday was the highest in 67 days. The country recorded 884 daily cases on July 21 this year.
The daily cases positivity rate stood at 13.58 percent up from Sunday's 12.96 percent, according to a handout of the Directorate General of Health Services (DGHS).
The recovery rate declined to 97.08 percent from Sunday's 97.09 percent while the mortality rate remained unchanged at 1.45 percent, said the DGSH.
With the updated data, the death toll of the virus rose to 29,359 while the caseload to 20,22,408 as of Monday.
The new cases were detected after testing 5,288 samples at 881 government-authorised laboratories in the country during the 24 hours period.
Meanwhile, some 436 people recovered from the virus-related illness taking the total number of recoveries to 19,63,308.
Of the victims, three were male and three were female and they were aged between 31 and 80 years.
Each of them was from Dhaka and Barishal divisions while one each from Chattogram and Rajshahi divisions and all the deceased breathed their last while undergoing treatment at public hospitals during the period.
The health authorities also detected 605 cases in Dhaka, 23 in Mymensingh, 28 in Chattogram, seven in Khulna, 31 in Rajshahi, 14 in Barishal and 10 in Sylhet divisions.
The country reported its first zero Covid-related death in a single day on November 20 last year, along with 178 infections.
On January 28, Bangladesh registered its previous highest daily positivity rate at 33.37 percent reporting 15,440 cases and 20 deaths.
The country registered the highest daily caseload of 16,230 on July 28 last year, while the highest number of daily fatalities was 264 on August 10 last year.
Since the outbreak of the virus in Wuhan province in China in 2019, the health authorities in Bangladesh confirmed the first case on March 8, 2020, and the first death on March 18 of the same year.
Worldometer, a reference website that provides counters and real-time statistics for diverse topics, has recorded 65,40,617 deaths so far caused by the virus and 62,03,76,904,044 cases worldwide.