FMCG Major CavinKare extends Covid support to 3 Dhaka hospitals
BI Report || BusinessInsider
Published: 17:56, 14 June 2021 Update: 17:16, 15 June 2021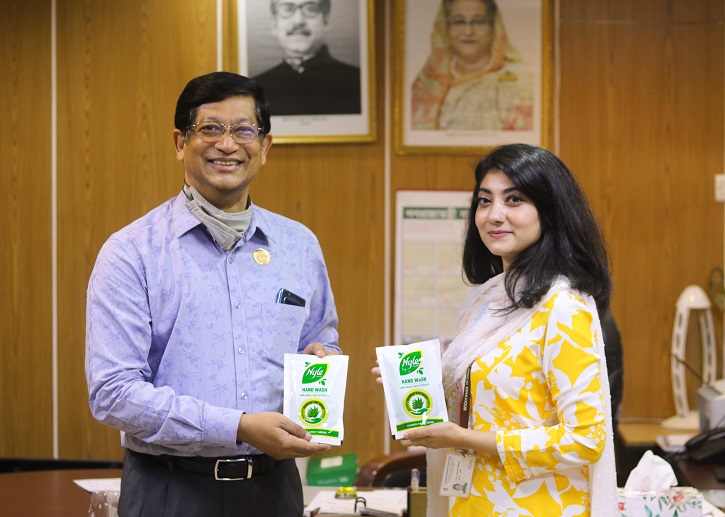 Photo: Collected
FMCG Major CavinKare Bangladesh Private Limited extended its support to three renowned hospitals in Dhaka to address the impact of the ongoing global pandemic Covid-19.
The company provided safety supplies grants to Dhaka Medical College Hospital, National Institute of Diseases of the Chest and Hospital (NIDCH) and the National Institution of Cancer Research Hospital (NICRH), reads a press release.
Brand Manager of CavinKare Sumaiya Ahmed handed over the grant to the Director of, NICRH Prof Dr Qazi Mushtaq Hossain.
Through its diverse range of consumer brands, CavinKare always emphasised public health and safety while maintaining quality. The safety supplies comprised of hand wash and hand sanitiser range from flagship brands of CavinKare, the press release said.
Regarding this, the Business Head of CavinKare Bangladesh Arun Chacko said, "In these times of distress, as CavinKare Bangladesh, an organisation which has always been proud of our association the with country's population, we would like to contribute in a small way through this activity."
Director of NICRH Prof Dr Qazi Mushtaq Hossain said, "We are very glad to receive handwash and sanitisers from CavinKare. We extend our sincere thanks and best wishes on behalf of the National Institute and Cancer Research Hospital."