IUB hosts webinar on National Budget and Education Sector
BI report || BusinessInsider
Published: 17:55, 10 June 2021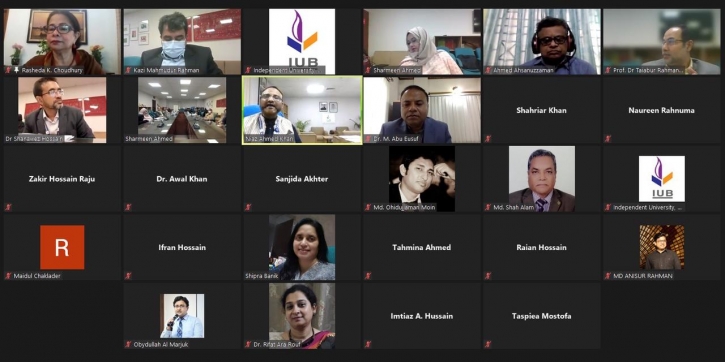 IUB hosted a webinar titled "Post Budget (FY 2021-22) Discussion: Education Sector in Focus" on Wednesday. Photo : Courtesy
The Department of Social Sciences and Humanities (DSSH) at Independent University Bangladesh (IUB) hosted a webinar titled "Post Budget (FY 2021-22) Discussion: Education Sector in Focus" on Wednesday.
Rasheda K Choudhury, executive director of CAMPE and former advisor of the Caretaker Government of Bangladesh attended the event as chief guest, reads a press release.
Sharmeen Ahmed, acting head of the Department of Social Science and Humanities of IUB delivered the inaugural speech and moderated the programme.
The release said that the presentation highlighted the consequences of the pandemic, the Bangladesh government's responses to the crisis, the education sector in ADP allocation, poverty and education, etc.
Rasheda K Choudhury stated that the policymakers failed to understand the dire impact on the education sector as it is not immediately apparent as for other sectors like healthcare.
In this regard, she suggested the universities come up with evidence-based research to show the impact in monetary term.
Besides, Prof Niaz Ahmed Khan called attention to the need for proper policies and budget allocation to address the issue of inequality in the education sector.
Summing up the discussion, Prof Taiabur Rahman reemphasized the need for an immediate rescue project for the education sector and also accented various exemplary measures taken by private universities including scholarship, reduction of tuition fees, support for online classes etc.
Moreover, Prof Yusuf emphasised the importance of monitoring the implementation process and urged for separating the budget for education from the budget for technology in order to get a clear picture of the allocation.
All the discussants unanimously agreed that the proposed tax on private universities and English medium schools must be withdrawn otherwise, ultimately, it will create an extra burden on students, which in turn will lead to an increased number of dropouts and that could well be the last nail in the coffin of the already struggling institutes.