Walton unveils groundbreaking 3.3MW rooftop solar plant at Chandra HQ
BI Report || BusinessInsider
Published: 23:34, 14 November 2023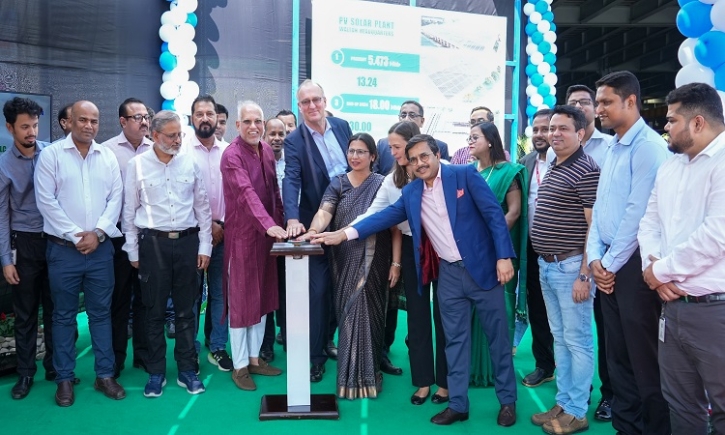 Walton Hi-Tech's Chairman S M Shamsul Alam, IDCOL Chairman Sharifa Khan and other officials from IDCOL, Walton and KfW are inaugurating a 3.3MW solar power plant at Walton Headquarter at Chandra, Gazipur. Photo: Courtesy
Walton, the country's leading electronics giant, has taken a significant stride towards environmentally friendly production by adopting renewable solar power.
A cutting-edge 3.3-megawatt (MW) rooftop solar facility now graces the premises of Walton Hi-Tech Industries PLC.
This solar plant is designed to fulfill approximately 7.86 percent of Walton Headquarters' daily electricity requirements.
The Infrastructure Development Company Limited (IDCOL) played a crucial role in financing this solar power initiative at Walton.
The inauguration of the 3.3MW rooftop solar project at Walton Headquarters, located in Chandra, Gazipur, took place on November 11, 2023.
The event saw the presence of notable figures such as S M Shamsul Alam, Chairman of Walton Hi-Tech Industries; Sharifa Khan, Chairman of IDCOL and Senior Secretary of Economic Relations Division; Alamgir Morshed, Executive Director and CEO of IDCOL; Enamul Karim Pavel, Head of Renewable Energy at IDCOL; and various executives from Walton Hi-Tech Industries, including Major General Ibne Fazal Shayekhuzzaman (Retd.), Md. Yousuf Ali, Nizam Uddin Mazumder, Abdullah-Al-Mamun, Sohel Rana, Easir Al-Imran, Mohasin Sarder, Md. Nazmul Islam, Khaled Bin Kamal, Shahana Akhter, and Mohasin Ali Molla.
During the ceremony, Sharifa Khan emphasized Walton's pivotal role as a source of pride for owners and workers and commended the company for setting an example for the entire nation.
She expressed satisfaction with Walton's commitment to green production and renewable energy, aligning with the government's ambitious targets for renewable energy.
Sharifa Khan also expressed optimism about IDCOL's continued partnership with Walton in expanding their renewable power initiatives.
Michael Sumser, Country Director for Bangladesh and Nepal at KfW Development Bank, lauded Walton's impressive production standards and product proficiency.
He expressed pride in being part of the inauguration of the 3.3MW solar power project, highlighting its significant scale.
Sumser commended Walton for harnessing the potential of solar energy without encroaching on agricultural land, emphasizing the financial viability and environmental sensibility of the company's solar energy production.
The IDCOL delegation, after the inauguration, had the opportunity to view a corporate video documentary of Walton at their headquarters.
Later, they visited Walton's well-decorated product display center and manufacturing plants, witnessing the production processes of smart refrigerators, molds, and dies.