Newly married couple get 200% cash voucher after buying Walton fridge
BI Report || BusinessInsider
Published: 23:27, 6 November 2023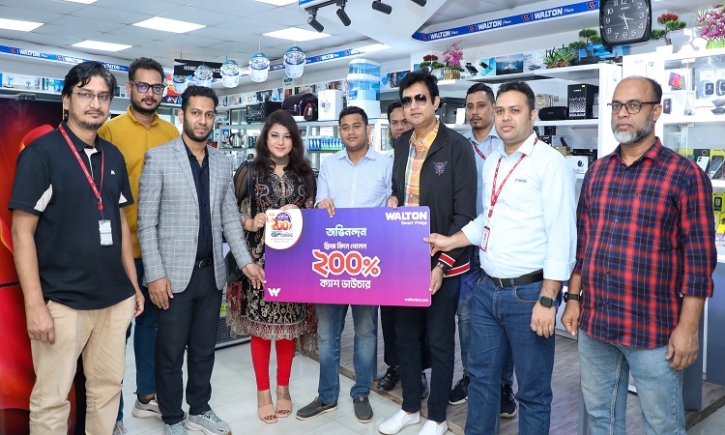 Renowned film actor Amin Khan hands over Walton's 200 percent cash voucher to Bithy Saha. Photo: Courtesy.
Bithy Saha, a newly married resident of Farmgate area in the capital Dhaka, has received a 200 percent cash voucher after purchasing a Walton brand refrigerator during the company's ongoing Digital Campaign Season-19.
With the cash voucher, she purchased various electronic products, including a TV, microwave oven, fan, blender, and more.
Renowned film actor Amin Khan officially presented at the cash voucher distribution event to Bithy Saha held at Mohakhali Walton Plaza last Sunday, November 5, 2023.
The event was graced by the presence of several dignitaries, including Divisional Credit Manager Zakir Hossen, Regional Sales Manager Abu Naser Prodhan, Regional Credit Manager Mizanur Rahman, Plaza Manager Al Amin Miah, Walton Refrigerator's Product Manager Md. Shohidul Islam, and Brand Manager Mostafizur Rahman, among others.
In the Walton Digital Campaign Season-19, customers have the opportunity to receive a maximum of a 200 percent cash voucher or guaranteed cashback when they purchase any model of a Walton fridge from a Walton Plaza, distributor outlet, or the online sales platform, E-plaza.
The exciting benefit offer was kicked off on November 1st and is to continue till December 31st, 2023.
Hailing from Durgapur, Netrokona, Bithy Saha purchased a Walton refrigerator at Tk 48,690 from the Mohakhali Walton Plaza on November 4. Shortly after registering for the digital campaign, she received an SMS confirming her eligibility for the 200 percent cash voucher.
Expressing her gratitude to the Walton authorities, Bithy Saha shared, "With this cash voucher, I was able to purchase many electronic products for my home. I am highly pleased with the benefits and Walton has truly become a trusted brand for all customers through this initiative."
Amin Khan said that Walton is committed to providing international standard products enriched with the latest technology and features.
Beyond catering to local demand, this company also earned a reputation in exporting its domestically manufactured products to over 40 countries worldwide. This achievement reflects positively for the nation, he said.
He continued, "Walton's progress is driven by the trust and affection of its customers, which is why Walton has consistently offered various benefits over the years, including cash vouchers and cashback."
According to Walton authorities, every locally manufactured refrigerator undergoes rigorous quality testing and is awarded quality certificates from the internationally recognized Nusdat-Universal Testing Lab. Walton brand refrigerators have earned several standard certifications at both the national and international levels, including BSTI's 'Five Star' energy rating, ISO, OHSAS, EMC, CB, ROHS, SASO, ESMA, ECHA, G-Mark, E-Mark, and more.
Customers who choose Walton refrigerators enjoy a one-year replacement warranty, a 12-year compressor warranty, and 5 years of free after-sales service.
With 82 service centers strategically located across the country, customers can access swift and top-notch after-sales support, all operating under the ISO-certified Walton Service Management System.