Customers to get 200% cash voucher, sure cashback on Walton fridge purchase
BI Report || BusinessInsider
Published: 23:57, 1 November 2023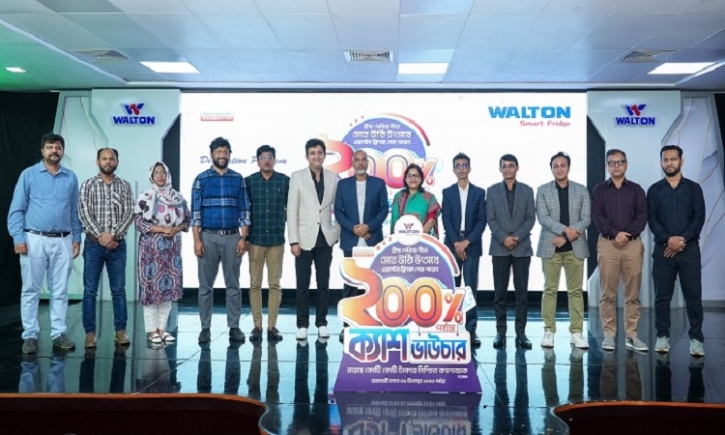 Photo: Collected
During the winter season, the lone electronics company, Walton, has officially kicked off Season-19 of its digital campaign nationwide
In Season-19, customers have the opportunity to receive a 200 percent cash voucher or guaranteed cashback when they purchase any model of Walton fridge from a Walton Plaza, distributor outlet, or the online sales platform, E-plaza.
The announcement of these benefits came during the launching event of the 'Walton Digital Campaign Season-19' held at the Walton Corporate Office in the capital on Tuesday evening, October 31, 2023.
Season-19 is scheduled to run nationwide from November 1 to December 31, 2023. The inauguration of the Digital Campaign Season-19 was led by Tofail Ahmed, the Chief Business Officer of Walton Refrigerator.
The event was graced by the presence of several key figures, including CEO Mohammad Rayhan of Walton Plaza, Amdadul Hoque Sarker, Additional Managing Director of Walton, Deputy Managing Directors Nazrul Islam Sarker and Eva Rezwana Nilu, Senior Executive Directors Ariful Ambia, Didarul Alam Khan (Chief Marketing Officer), Firoj Alam, and Anisur Rahman Mallick, as well as Executive Directors Azizul Hakim and Shahiduzzaman Rana, and Senior Deputy Executive Director Rabiul Islam Milton.
The event was successfully moderated by Amin Khan, a well-known film actor, who also holds the position of Senior Executive Director at Walton.
During his address at the event, Tofail Ahmed, the CBO of Walton Refrigerator, highlighted Walton's impressive achievement of capturing approximately 75 percent of the domestic fridge market.
He emphasized that Walton not only offers refrigerators with advanced international standard features but also strives to maximize customer benefits.
To further this initiative, Walton is conducting a digital campaign aimed at building a comprehensive customer database, which will enable the company to provide swift and superior online-based after-sales services to its users.
Continuing his remarks, Tofail mentioned that Walton has launched 'Digital Campaign Season-19' in anticipation of the upcoming winter season.
He expressed optimism that this season would receive a tremendous response from customers, much like the previous campaigns.
In Season-19, buyers are required to digitally register their purchased fridge from any Walton Plaza, distributor showroom, or through the E-Plaza online platform in the country.
Upon receiving a return SMS from Walton, customers can expect to receive 200 percent cash vouchers or varying cash back amounts.
These cash vouchers can be utilized to purchase any Walton product.
Throughout the campaign, detailed information, including the buyer's name, mobile number, and product model number, is securely stored on Walton's server via the digital registration system.
This enables customers to receive prompt service at any Walton service center across the country, even if they misplace their warranty card.
Furthermore, representatives at the service centers can also access valuable customer feedback, enhancing the overall customer experience.
Walton's Research and Innovation Center's engineers have affirmed that each Walton fridge undergoes rigorous quality checks and receives certification from NUSRAT-Universal Testing Lab, an internationally recognized quality testing organization before being introduced into the market.
Additionally, all Walton's fridges proudly bear a five-star energy efficiency rating from BSTI, underscoring their commitment to energy efficiency.
Moreover, Walton fridges have been awarded various international certificates, including ISO, OHSAS, EMC, CB, ROHS, SASO, ESMA, ECHA, G-Mark, and E-Mark, further attesting to their quality and compliance with international standards.
Notably, these refrigerators not only cater to a significant portion of the domestic market but are also exported to over 40 countries worldwide.
Currently, Walton offers an extensive range of more than two hundred models and designs of refrigerators, freezers, and beverage coolers in the domestic market.
These appliances are priced between Tk 14,990 and Tk 1,42,990, ensuring a wide selection to meet the needs of various customers.
Walton fridge customers benefit from a one-year replacement warranty, a 12-year warranty on the compressor, and five years of free after-sales service.
To enhance the customer experience, Walton has established 82 service centers across the country, all operating under the ISO-certified Walton Service Management System, ensuring swift and top-notch after-sales support.