Walton Hi-Tech holds 17th AGM
BI Report || BusinessInsider
Published: 19:26, 30 October 2023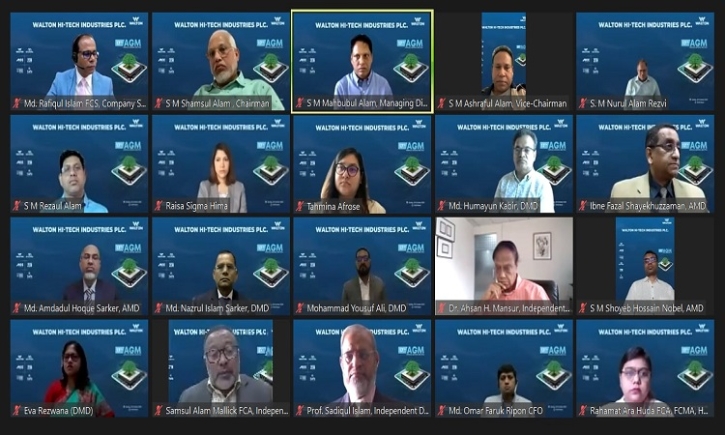 Photo Collected
The 17th Annual General Meeting (AGM) of Walton Hi-Tech Industries PLC, a prominent electrical and electronics manufacturing company listed in the capital market, has been successfully concluded.
The AGM was conducted virtually over a digital platform on Sunday, October 29, with the goal of ensuring continuous and meaningful engagement and participation of shareholders.
The AGM was presided over by Walton Hi-Tech Industries' Chairman, S M Shamsul Alam. It was attended by several key officials within the company, including its Vice-Chairman S M Ashraful Alam, Managing Director S M Mahbubul Alam and Directors S M Nurul Alam Rezvi, S M Rezaul Alam, Tahmina Afrose Tanna and Raisa Sigma Hima.
Independent Directors Dr. Ahsan H. Mansur, Samsul Alam Mallick, FCA, and Professor Dr. M. Sadiqul Islam, Ph.D., FCA were also present at the programme.
Additionally, the meeting saw the participation of Company's Additional Managing Directors (AMDs) Major General Ibne Fazal Shayekhuzzaman (Retd.), S M Shoyeb Hossain Nobel and Amdadul Hoque Sarker, as well as Deputy Managing Directors Nazrul Islam Sarker, Eva Rezwana Nilu, Humayun Kabir, and Md. Yousuf Ali. Company Secretary Md. Rafiqul Islam, FCS, Chief Financial Officer Muhammed Omar Faruque Ripon, FCA, and Head of Internal Audit and Compliance Rahamat Ara Huda, FCA, were also part of the proceedings.
The meeting also had substantial attendance from institutional investors, general shareholders, Company's Statutory Auditors, Corporate Governance Compliance Auditor, representatives from regulators, and other stakeholders, including higher officials of the company, who all participated virtually.
Key highlights of the AGM included the approval of the company's audited financial statements for the financial year 2022-2023, the reports of the directors and the auditors, and the proposed distribution of a 300 percent cash dividend for general shareholders and a 90 percent cash dividend for sponsors and directors for the FY 2022-2023.
The shareholders also endorsed the board's recommendations regarding the election/re-election of directors and the reappointment of an independent director for another three-year term.
Furthermore, the meeting approved the appointment of Messer's Howladar Yunus & Co., Chartered Accountants as the Statutory Auditors and Messer's Al-Muqtadir Associates as the Corporate Governance Compliance Auditor for the FY 2023-2024, along with fixing their remuneration.
In his address to the AGM, the Chairman of the meeting has expressed his heartfelt gratitude to all those involved for their contributions to the successful conduct of the event.