Walton Plaza provides 119 families with over Tk 32 lakh as financial assistance
Published: 18:17, 28 August 2023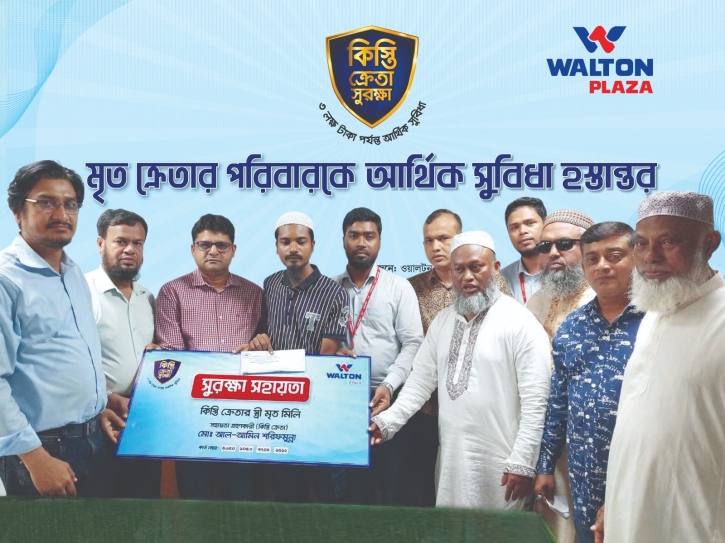 Photo: Collected
Walton Plaza, a sales and distribution network of electronics, electrical and ICT products in Bangladesh, has provided over Tk 32 lakh to 119 families of the hire-purchase customers and any member of their family who died, as financial assistance.
Moreover, the organization waived the remaining installments of the concerned families. The financial assistance was given under the 'Hire Purchase and Family Protection Policy' of Walton Plaza.
Walton Plaza's Chief Executive Officer Mohammad Rayhan said their main goals are to provide quality products and services to customers at affordable prices and that's why they initiated the 'hire purchase and family protection policy'.
So far, a total of 119 families have received financial assistance from Walton Plaza across the country, he said.
He noted that Walton Plaza is the world's only organization that initiated 'Hire purchase and family protection policy' for those customers who buy products in installments from social responsibilities and duties towards its customers. It has been conducting this policy so that general customers can be greatly benefited.
Under the policy, protection cards are being issued to those customers who purchase products at installment from any Walton Plaza across the country, Walton Plaza's Brand Manager Owahiduzzaman said.
He also said that Walton Plaza is providing financial assistance, ranging from Tk 50,000 to Tk 300,000 based on the products' price, to the respective nominee on the death of the buyer during the installment period.
In addition, financial assistance from Tk 25,000 to Tk 1,50,000 are being given on the death of a family member of the respective buyers.
In this case, the unpaid installments are being adjusted from the payable financial assistance and then the rest is given to the buyer or his or her family.
A hire purchase customer named 'Al-Amin Sharif Munna', who purchased a mixer grinder and an electric fan with an installment from Walton Plaza Demra Branch in the capital, has recently received a total of Tk 25,000 financial benefits on the sudden death of his wife.
Thanking Walton Plaza authorities for providing the financial assistance, Munna said this initiative proved that Walton is different from others.
Another hire-purchase customer Rangmala Khatun, a widow and resident of Chawkbazar area in Chattogram, has also received a total of Tk 50,000 financial benefit from the local Walton Plaza.
She got the financial assistance on the sudden death of her husband Jashim Uddin, who had purchased a Smart Television at hire purchase from Walton Plaza Chawkbazar branch.
Walton Plaza's hire purchase protection card holders are also getting best services and special benefits like discounts at various renowned organizations such as hospital, diagnostic center, insurance, restaurant etc. across the country.