4 students bag Honda Y-E-S Award for 2022
Press Release || BusinessInsider
Published: 18:17, 1 June 2023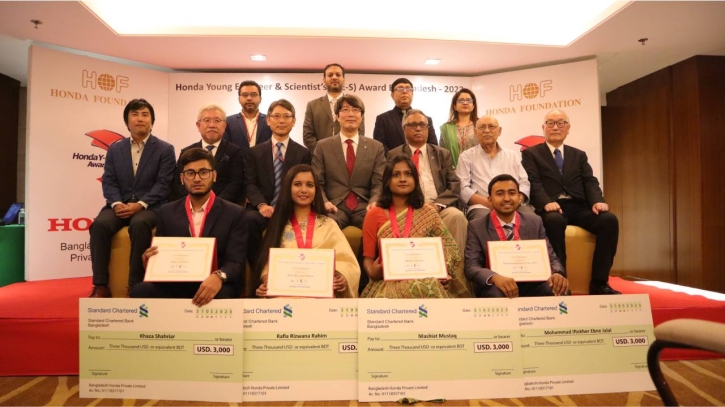 Photo: Collected
Honda Foundation from Japan on Wednesday organised a ceremony regarding the Honda Young Engineer & Scientist's (Y-E-S) Award – 2022 in Bangladesh.
Four students from BUET, CUET, KUET & RUET won the awards, according to a news release.
The ceremony was graced by IWAMA Kiminori, Japanese Ambassador to Bangladesh, Ainun Nishat, Chief Evaluator of Honda Y-E-S award program in Bangladesh, Hiroto Ishida, President of Honda Foundation, Masaki Tsunoda, Managing Director of Honda Foundation, Shigeru Matsuzaki, Managing Director & CEO of Bangladesh Honda Private Limited, Hiroki Watanabe, Advisor of Ekmattra Society, SA Abul Hayat, Actor, Writer & Civil Engineer, Shah Muhammad Ashequr Rahman, FCA, Chief Marketing Officer of Bangladesh Honda Private Limited and representatives of respective universities.
The objective of the award is to "foster future leaders of science and technology fields to spearhead the growth of Asian countries in the future". The Y-E-S Award program aims to discover and encourage students who would become the future leaders to develop and implement innovative technologies that help to realise truly humane civilization, maintaining the harmony of human being and its surrounding environment. The program initially kicked off in Vietnam in 2006 and it has been also implemented in India 2007, Laos and Cambodia in 2008, Myanmar in 2014, it was introduced in Bangladesh in 2019 to support the development and promotion of young leaders to spearhead the growth of these countries in the future. Specifications of the program vary country by country to attain optimal results.
In Bangladesh, Honda Foundation (HOF) intended to arrange Y-E-S (Young Engineer & Scientist's) Award with four public Engineering universities:
1. Bangladesh University of Engineering and Technology (BUET)
2. Chittagong University of Engineering and Technology (CUET)
3. Khulna University of Engineering and Technology (KUET) and
4. Rajshahi University of Engineering and Technology (RUET)
The program is annually selecting up to four undergraduate students of its designated universities in Bangladesh to award a 3,000 each student. Furthermore, the awardees can receive as additional award/grant up to $10,000 under Honda Y-E-S Award Plus program, if they continue their study and training within 4 years after the receipt of the Honda Y-E-S Award either via masters, doctoral or study abroad programs in Japanese universities at Japan, or via internship programs in Japanese research organisations or private companies in Japan as approved by the Honda Foundation.
The program hopes to promote dissemination of ecotechnology among the young generations and at the same time to strengthen interaction and exchange between Japanese youths and young people expect to lead science, technology and industry in their respective countries. We aim to use the results to promote human welfare and happiness and "to contribute towards the creation of a truly humane civilization" based on the recognition of the need to strive to create a higher level of humane society to make people happy with technology.