Walton fridge customer Raton Lal gets a car for free
Press Release || BusinessInsider
Published: 17:10, 30 May 2023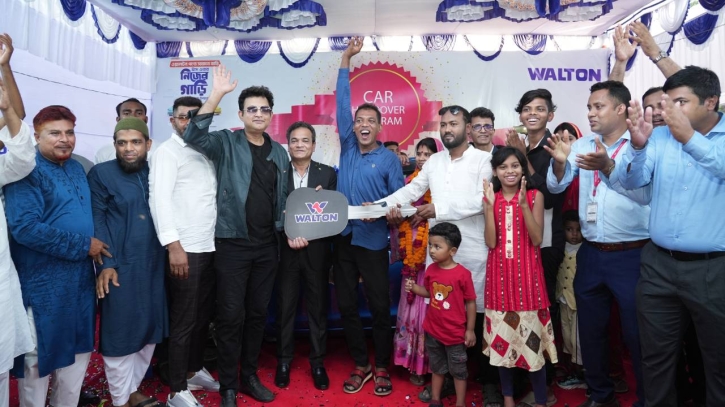 Photo: Collected
Sree Raton Lal Bashfore, a member of Bangladesh Ansar from Jashore's Sharsha upazila, has received a Japanese car for free after purchasing a Walton brand refrigerator, according to a news release.
Raton Lal is lucky enough to get this car under the company's ongoing nationwide Digital Campaign Season-18. He bought the fridge in hire purchase policy from Walton Plaza paying only Tk 5,000 as a down payment.
Walton is conducting the 'Digital Campaign' across the country to accelerate the initiative of building customers database for delivering online based swift and best after sales service. Centring the upcoming Eid-ul-Azha, under the campaign's Season-18, customers are offered stylish car, attractive amounts of cash vouchers and so many gifts on the purchase of Walton fridge, television, air conditioner and washing machine from any Walton Plaza, distributor outlets and online sales platform e-plaza. Customers will enjoy the benefits until July 15, 2023.
On Monday, Walton Plaza's Chief Executive Officer (CEO) Md Rayhan, Walton's Deputy Managing Director (DMD) Humayun Kabir and Senior Executive Director popular actor Amin Khan officially handed over the key of the awarded car to Raton Lal at a programme held in front of a Walton Plaza.
Sharsha Upazila Awami Jubo League General Secretary Sohrab Hossain, Upazila Sramik League Joint Convenor Abul Hossain, Walton's Deputy Executive Director Wahiduzzaman Tanvir were among others present on the occasion.
Raton Lal Bashfore is the son of late Mukul Lal Bashfore in the Navaron rail bazar area. He is working at the Foy's Lake range of Bangladesh Ansar's No 4 Battalion in Bandarban. On May 24, he purchased a 177-litre Walton fridge from the plaza and received an SMS with the notification of getting the car after completing the digital registration process of the purchased fridge. He felt amazed seeing the message.
Raton Lal said: Walton fridge has changed my destiny forever. I could not even see a dream of getting a high-valued car for free. I will use the car for my family. I thank the Walton authorities for keeping their given promises to customers.
Authorities say the digital registration of Walton fridge, TV, AC and washing machine is being done immediately after purchasing the products. Then, SMS regarding car or other gifts are being sent to customer's cell phone through a fully computerised system. Officials concerned at the showrooms or Plaza hand over the respective gifts to customers.
Walton Plaza's CEO Mohammad Rayhan said: We are providing various facilities and benefits to customers over the years. We are giving cars to customers for free under this mega campaign. Beside, Walton Plaza is the only organisation in the world that provides especial benefits to its hire customers. Under hire purchase and family protection policy, Walton Plaza provides financial assistance, ranging from Tk 50,000 to Tk 300,000, to the respective nominee. In addition, financial assistances from Tk 25,000 to Tk 1,50,000 is being given on the death of a family member of the respective buyers.
DMD Humayun Kabir said: "Walton is producing and marketing international standard products and giving maximum benefits to customers. Walton is exporting products to different countries after meeting the local demand."
Actor Amin Khan said: "We should not purchase the products of the foreign brands instead of buying domestic made products. We have to buy local products in a bid to strengthen our economy. Our local industries will be enriched, our country will be developed creating new employment if we purchase the home-made products."
Through digital campaign, detailed information including the name of the customer, cell phone number and model number of the purchased product being stored on Walton's server. As a result, customers get swift and best after sales service from Walton service centres across the country even if they lose the warranty card.