Walton Digital Campaign Season-18 kicks off offering new car, lakhs of attractive gifts
Press Release || BusinessInsider
Published: 21:15, 15 May 2023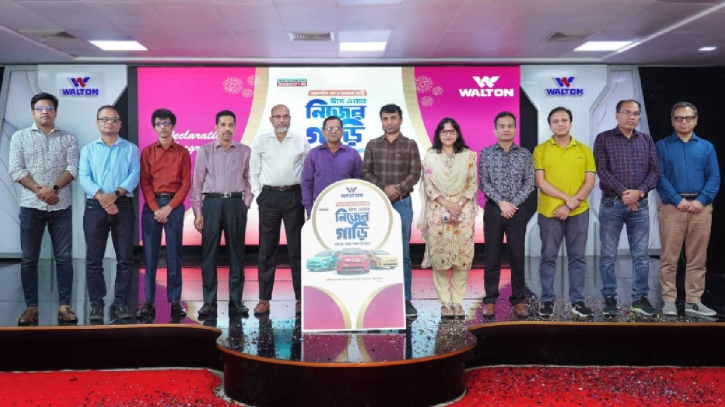 Photo: Collected
Centring the upcoming Eid-ul-Azha, Bangladeshi super brand Walton has commenced its 'Digital Campaign Season-18' across the country, said a news release.
Under the campaign's Season-18, customers are offered stylish new car, attractive amounts of cash vouchers and so many gifts on the purchase of Walton fridge, television, air conditioner and washing machine from any Walton Plaza, distributor outlets and online sales platform e-plaza. Customers will enjoy the benefits from May 15 to July 15, 2023.
Walton is conducting the 'Digital Campaigns' across the country to accelerate the initiative of building customers database for delivering online based swift and best after sales service to the users. Season-18 is commenced with offering attractive benefits as the previous seasons of the campaign got mass popularity among countrywide customers.
The Digital Campaign Season-18 was inaugurated at a declaration program held at Walton Corporate Office in the capital on Sunday evening.
The declaration program was attended by, among others, Walton Hi-Tech Industries PLC.'s Additional Managing Director SM Shoyeb Hossain Nobel, Walton Plaza's CEO Mohammad Rayhan, Walton's Deputy Managing Directors Eva Rizwana Nilu, Nazrul Islam Sarker, Amdadul Haque Sarker and Humayun Kabir, Senior Executive Directors SM Zahid Hasan, Md Tanvir Rahman, Firoj Alam, Amin Khan, Didarul Alam Khan (Chief Marketing Officer), Md. Shahjada Salim, Ariful Ambia, Al Imran, Tofail Ahmed and Dr. Shakhawat Hossen.
It was informed in the event that digital registration of Walton fridge, TV, AC and washing machine will be done after the product had been purchased. Then, SMS regarding new brand car or other gift will be sent to customer's cell phone through a fully computerised system. Officials concerned at the showrooms or Plazas will hand over the respective gifts to customers.
Under the campaign, lakhs of free gifts such as new branded cars and attractive amounts of cash vouchers are given under the new season. Besides, under buy one get one offer, customers can get a specific model of freezer for free after they had purchased a Walton brand fridge. In addition, Walton Smart TV customers will get 1-year free subscription of BongoWal whereas the basic LED TV customers will get 20 percent discount on buying AKASH DTH connection. Moreover, Customers will get up to 20 percent discounts on the purchase of certain models of Walton ACs.
Walton Hi-Tech's Additional Managing Director SM Shoyeb Hossain Nobel said that Walton announced attractive customer benefits during each of the major festivals. New branded cars and lakhs of other benefits are given in the new season in continuation of those activities. We hoped that season-18 will also get huge customer response like other seasons.
Through digital campaign, detailed information including the name of the customer, cell phone number and model number of the purchased product being stored on Walton's server. As a result, customers get swift and best after sales service from Walton service centres across the country even if they lose the warranty card. Various benefits are being provided to ensure customers' spontaneous participation in the campaign.