Apex Bangladesh, ABG Bashundhara honor war heroines
BI Report || BusinessInsider
Published: 15:44, 27 March 2023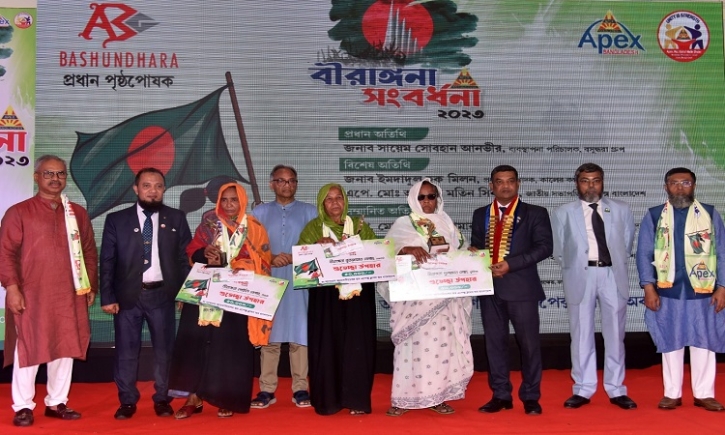 Photo: Courtesy
International community organisation Apex Bangladesh in association with ABG Bashundhara has accorded a reception to three war heroines on Sunday, marking the 53rd Independence and National Day.
On behalf of Bashundhara Group Managing Director Sayem Sobhan Anvir, Kaler Kantho Editor-in-Chief Imdadul Haq Milan inaugurated the programme at a hotel in Dhaka on Sunday.
The three valiant freedom fighters -- Duljan Nesa, Noor Jahan Begum and Laily Begum -- have been accorded a reception for their courageous role during the Liberation War in 1971.
On the occasion, Apex Bangladesh also felicitated its member, cricketer Raqibul Hasan for achieving the Independence Award, the highest civilian honor in Bangladesh.
Bangladesh Garment Manufacturers and Exporters Association (BGMEA) President Faruque Hassan, Bangladesh Knitwear Manufacturers and Exporters Association (BKMEA) Executive President Mohammad Hatem and National Press Club General Secretary Shyamal Dutta were the guests of honor at the event.
Apex Bangladesh National President Abdul Matin Sikder made an address of welcome with national youth and citisenship director Anwar Hossain Babu in the chair.
The organisation's national and international programme coordinator M Saim Tipu moderated the session.
Addressing the function, novelist Imdadul Haq Milan termed the reception programme for war heroines as the 'best one' on the occasion of Independence Day.
"Someone tells stories of the Liberation War. It's not a story, but a matter of pride for the nation. We have to project the history to a new generation," he said.
Milan, also the director of East West Media Group, mentioned some philanthropic activities of Bashundhara Group for the well-being of people and the country.
'Bashundhara Group Chairman Ahmed Akbar Sobhan feels empathy with the sufferings of underprivileged ones. We have a platform for readers called Shuvosangho. Under the supervision of the Bashundhara Group chairman and managing director, we provided food support to thousands of families across the country, especially in the northern region," he said.
Bashundhara Group supports the education of 1,750 students up to graduation level, he added.