JMI Group celebrates Int'l Women's Day
BI Report || BusinessInsider
Published: 18:43, 12 March 2023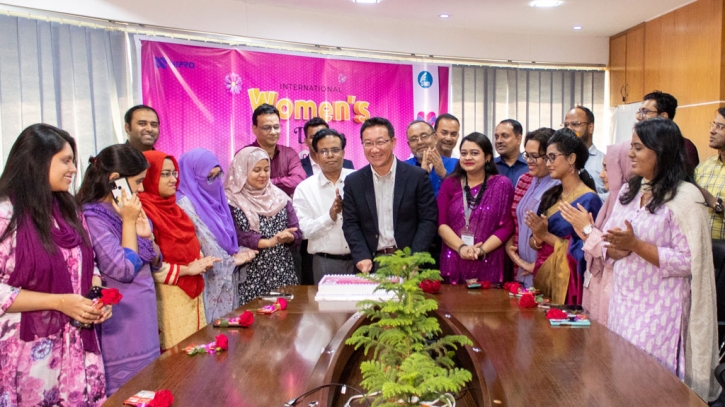 Photo: Courtesy
The country's leading medical device manufacturing company JMI Group has celebrated International Women's Day in a befitting manner.
Marking the event, female staff working at the business conglomerate were given a warm reception with flowers and chocolate on Thursday. Also, a cake was cut at the conference room of the company's head office in Dhaka.
Executive Director of NIPRO JMI Medical Ltd Kunio (Kenny) Takamido cut the cake with the presence of Chief Executive Officer of JMI Builders and Construction Ltd Mohiuddin Ahmed, Chief Financial Officer of JMI Group Md Zahangir Alam, FCMA, Executive Director of JMI Syringes and Medical Devices Ltd Abhijit Paul, Head of Sales and Marketing at JMI Hospital Requisite Manufacturing Ltd Md Rabiul Alam, Head of Admin at JMI Group Major (Retd) Abdullah Al Faruki, Head of Human Resources Department at JMI Group AM Mamunul, Chief Financial Officer of JMI Syringes and Medical Devices Ltd Md Abu Hana, Managing Director of Window Media Limited AKM Shariful Islam and others.
At the event, the top officials of JMI Group said that a group of companies under JMI for the last 24 years have been treating their female employees equally in line with the male ones. None of the employees are underestimated at JMI Group because they are female. JMI Group believes that the career has no gender and a man of quality always promotes equality.
Some of the female employees also expressed their feelings about the working environment at the JMI Group. They said that they feel like a second family while working at JMI Group. They have never been humiliated or deprived because they are women.
JMI Group is a pharmaceutical and medical device manufacturing and marketing company established in joint investment with foreign investments. Started in 1999, JMI Group currently has joint investments from Japan, South Korea, China, Turkey and Thailand. Presently more than 8,000 employees are working in 42 companies under the JMI Group. JMI Group is providing healthcare services at home and abroad by manufacturing and marketing various world class lifesaving medical devices and medicines in the country. Besides, the JMI Group has been importing and marketing LP Gas with a view to ensuring environment-friendly energy across the country.