4-day Turkish food fair, free health camp begins in Lakshmipur
BI Report || BusinessInsider
Published: 20:11, 26 January 2023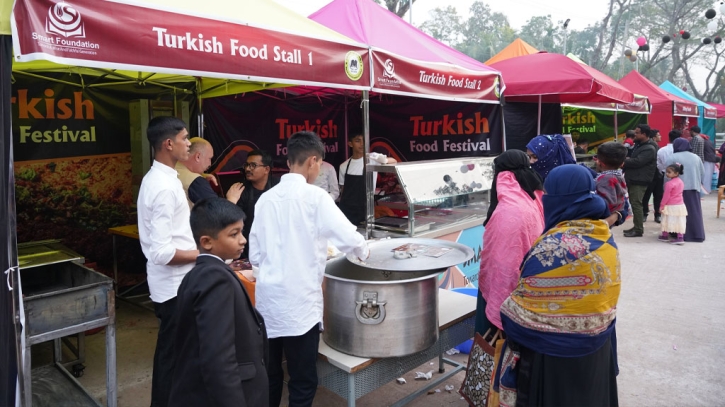 Photo: Courtesy
A four-day Turkish food fair and free healthcare camp has started in Lakshmipur's Ramganj.
SMART Foundation, a public welfare organisation of Smart Technologies (BD) Ltd, the official distributor of Japanese world-renowned brand Sony in Bangladesh and the country's leading company in the electronics and information technology sector, and the International Fraternity Association of Turkey (IFA) are jointly organising the event at the premises of Smart Academy located in Norimpur of Ramganj Upazila.
This Turkish food fair and free healthcare camp which started on January 26 will continue till January 29, said a press release.
Turkish Food Fair has a rich collection of delicious Turkish food including Turkey's famous Turkish Pizza, Burger, Biryani, Coffee, Tauk Doner, Tauk Izgara, Tather, Baklava, Lukom, and other Turkish food packages.
At the free healthcare camp, 10 renowned doctors from Hisar Intercontinental Hospital of Turkey are present for providing free circumcision (Sunnat-E-Khatna) services to 1,600 pre-registered boys using modern technology in a bloodless and pain-free manner.
This four-day Turkish food fair and free health camp will run from 9:00am to 5:00pm everyday.
The programme was inaugurated on January 26 at 11:00am by releasing pigeons, the symbol of peace. Ramganj municipality mayor Bir Muktijoddha Abul Khair Patwari was presented as the chief guest at the event, while Smart Foundation Managing Director Mohammad Zahirul Islam was on the chair at the opening ceremony.
Ramganj Municipality Mayor Bir Muktijodha Abul Khair Patwari in his speech as the chief guest said, "Smart Technologies has created a unique example today by delivering free modern healthcare to remote areas. Providing free healthcare to 1,600 people together is undoubtedly a commendable initiative. Besides, by organizing the world-famous Turkish Food Fair in the rural environment, the people here have been given an opportunity to get acquainted with the global culture."
He also said, "The Smart Technologies (BD) Ltd has been playing an important role in realizing the dream of the Honourable Prime Minister Sheikh Hasina of the Government of the People's Republic of Bangladesh in building Digital Bangladesh. They are not limiting themselves only to business activities but also doing various works for public welfare. Today they organised free healthcare and foreign food fairs in remote areas under Corporate Social Responsibility through their public interest organisation Smart Foundation. I sincerely thank them for that."
Managing Director of Smart Foundation Mohammad Zahirul Islam said, "For the second time in a row, we are providing free circumcision services in remote areas by organizing health camps. We hope that we will be able to provide this facility regularly in the future. Also, if other capable individuals or organisations of the country like us all participate in public interest activities from their positions, then it will be possible to build a smart Bangladesh very easily."