Actress Tisha becomes brand ambassador for Chopstick
BI Report || BusinessInsider
Published: 19:15, 17 January 2023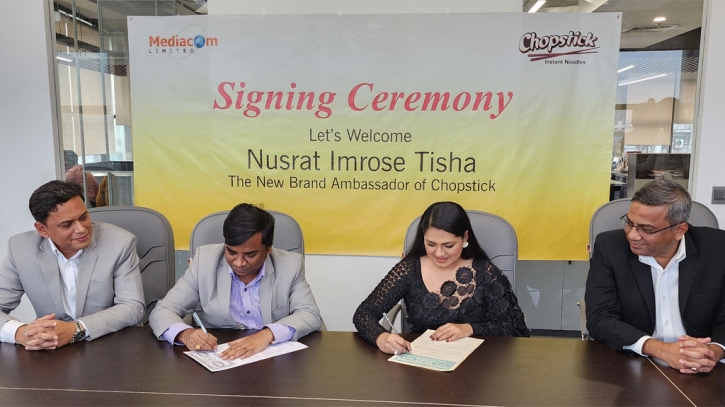 Photo: Courtesy
Popular TV and film actress Nusrat Imrose Tisha signed a contract with 'Chopstick', making her an ambassador for Square Food and Beverage Limited's brand.
Tisha was officially introduced as the brand ambassador of Chopsticks at an agreement signing ceremony at the Samson Center in Gulshan 1 of the capital on January 16, said a press release.
Tisha's deal was signed with Square Group's advertising agency Mediacom Limited. Chief Executive Officer of Mediacom Limited Ajay Kumar Kundu, Chief Operating Officer of Square Food and Beverage Parvez Saiful Islam, Head of Marketing Imtiaz Firoze and senior officials of Square Group were also present at the signing ceremony.
After signing the agreement, Tisha said, "There is no questioning the quality and acceptability of Square's products. Since its inception, Chopstick has been involved in various activities to ensure a beautiful childhood for children. Besides, the healthy Chopstick Instant Noodles is also delicious to eat. Observing all this, I agreed to be the brand ambassador of Chopstick. Hopefully, I can do a good job with Chopstick."
Parvez Saiful Islam said, "Apart from offering good quality products, Chopstick has always been giving good messages to our consumers, which have already garnered appreciation. I strongly believe that with Nusrat Imroz Tisha by our side, we will be able to present commendable work in the days to come."
Ajay Kumar Kundu in his speech said, "We have been involved in the promotional activities of the Chopstick brand since its inception. I think the association of actress Tisha with this brand is going to be positive for the brand."
It's important to note that Tisha will soon be seen as the brand ambassador in the advertisement of Chopstick's new delicious variant 'Chopstick Masala Delight' which is a combination of 11 unique spices. It will be rolled out soon in the market to win over consumers.