Inauguration ceremony of JCI Dhaka Diplomats held
BI Report || BusinessInsider
Published: 18:20, 16 January 2023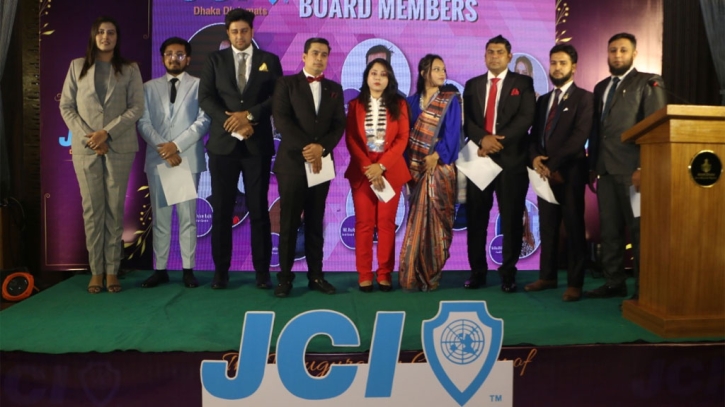 Photo: Courtesy
The inauguration ceremony of Junior Chamber International (JCI) Dhaka Diplomats was organised at a Dhaka hotel recently.
At the event, Sharmin Hossain was elected as the local president of JCI Dhaka Diplomats Chapter. As an executive committee of eleven members and all the newly appointed board members of JCI Dhaka Diplomats were sworn in, according to a press release.
Asaduzzaman Khan, local executive vice-president; Mohammad Tajul Islam Rajib, local secretary general; Md Rajib Hossain, local general legal adviser; Tandra Chowdhury, local vice-president; Saif Rahman, local vice president; Maruf Hossain Mahir, special assistant to local president; Syed Mohaddes Mahi, local treasurer; Arika Afrin Barsha, local director; and Iftekhar Sarwar, local director were been appointed to the JCI Dhaka Diplomats Board Committee.
National President of JCI Bangladesh - 2023, Senator Ziaul Haque Bhuiyan; Ambassador of Kosovo Embassy of Dhaka, Guner Urea; Bangladesh National Board of Revenue Commissioner, Barrister Mutasim Billah Farooqui; Royal Bhutanese Embassy Dhaka Minister Consular (Trade) Kencho Thinley; FBCCI Director (Tourism and Civil Aviation) and one of the members of the governing body of Bangladesh Tourism Board - MG And Nasir Majumder; Former National Secretary General of Junior Chamber Bangladesh – 1999, Md Delwar Hossain; Former National Executive Vice President of Junior Chamber Bangladesh – 2000, JC Farida Hossain; JCI Bangladesh – 2023 National Vice President, Fatima Akhtar Naz; and other national officers of JCI Bangladesh and other dignitaries were present.
Sharmin Hossain, local president of JCI Dhaka Diplomats said, "Our chapter's aim is to provide leadership opportunity to the large number of youth community and other development activities with the help of diplomats around the global for making JCI Bangladesh stronger."
Junior Chamber International (JCI) is a global membership-based non-profit organization of active citizens between the ages of 18 and 40 who are dedicated to making a positive difference in their communities. JCI Dhaka Diplomats is a new local chapter of JCI Bangladesh in its continuation.
JCI Bangladesh National President Senator Ziaul Haque Bhuiyan said that there is no substitute for networking for personal development or social development and JCI Bangladesh is serving as a great platform for networking in national and international arena.