HSBC signs deal to set up H2H integration solution for DBL Group
BI Report || BusinessInsider
Published: 16:36, 3 October 2022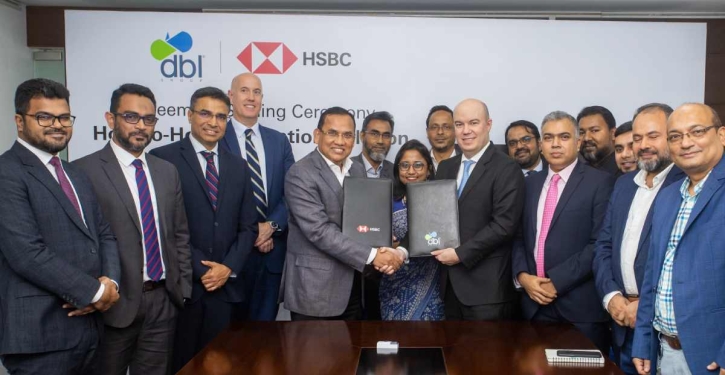 Photo: Collected
As a part of HSBC's effort to give the clients greater financial flexibility to meet their increasingly sophisticated business needs, HSBC Bangladesh signed a mandate for Host-to-Host (H2H) Integration Solution with DBL Group.
The agreement was signed at DBL Group's Corporate Office on September 29, 2022. MA Jabbar, managing director of DBL Group, Stuart Rogers, head of CMB International Countries, HSBC Asia Pacific and senior executives from both the organisations were present during the signing ceremony.
DBL Group is one of the renowned business conglomerates of Bangladesh with diversified business interest in textile and garments, packaging, ceramic tiles, pharmaceuticals, dredging, ICT, and telecommunications sectors.
Jabbar of DBL Group said, "Our company thrives on attaining efficiency in a sustainable manner. We continuously invest in technology and HSBC's paperless solution will help us further align with the sustainability pillars we have set and methodically follow in our everyday operations".
MA Rahim, vice chairman of DBL Group, said, "Our vision is to grow sustainably, for which, it's key to empower our resources with correct technical support and have transparency in our end-to-end processes. We always welcome innovative solutions, and deployment of this Host-to-Host integration will keep us at par with the standard we have set for our company."
HSBC's H2H solution is a fully automated single interface offering a wide range of HSBC banking services. The widely compatible solution can be fully integrated with clients' existing industry standard Enterprise Resource Planning's (ERP) to further streamline work processes. The integration improves straight-through processing capabilities and automates client's reconciliation and treasury activities.
Commenting on the integration, Stuart Rogers of HSBC Asia Pacific, said, "A fully automated Host-to-Host solution will streamline our customer's working processes with less operating risk and maximum efficiency. This digital service will enable DBL Group to process a variety of local payments directly from their ERP system."
He also said this will improve DBL Group's straight-through processing capabilities by integrating directly with their in-house systems and automating the Group's total payments, receivables and treasury functions.
Kevin Green, country head of wholesale banking, HSBC Bangladesh, said, "We are a proud banking partner of DBL Group, a company which shares the same digitisation mindset as HSBC. The journey towards fully optimised cash management has a number of steps, which can provide renewed benefits to treasurers".
DBL Group already utilises HSBCnet, our online banking platform for their regular transactions, he said adding that by taking this new solution, DBL Group will be able to further automate and streamline their end-to-end payment activities to reduce cost, manual errors and other operational risks.
HSBC Bangladesh has a wide range of cash and liquidity management solutions across payables, receivables, clearing and foreign currency, liquidity, liability and investments.