EBL arranges Tk 1,22cr for TMSS
BI Report || BusinessInsider
Published: 21:32, 27 September 2022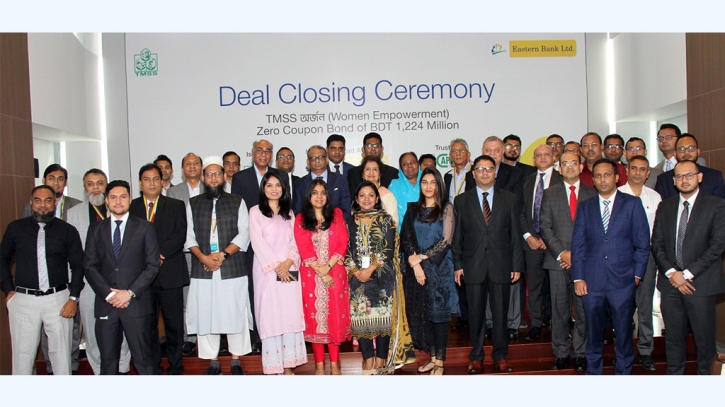 Photo: Courtesy
Microfinance institution Thengamara Mohila Sabuj Sangha (TMSS) has successfully raised Tk 122.4 crore through the issuance of a Zero Coupon Bond.
Eastern Bank Limited (EBL) acted as the lead arranger of the bond, said a press release.
The proceeds of the bond will be primarily utilised for the disbursement 'Jagoron, and 'Agroshor' lending products, targeted to improve the socio-economic welfare of the rural women in the country.
A closing ceremony of the bond issuance was held on Tuesday at the Head Office of Eastern Bank Limited, in Dhaka.
Md Fashiullah, executive vice chairman, Microcredit Regulatory Authority; Dr Shaikh Shamsuddin Ahmed, commissioner and Sheikh Mahbubur Rahman, director, Bangladesh Securities and Exchange Commission; Prof Dr Hosne-Ara Begum, founder and executive director, TMSS; Ali Reza Iftekhar, MD and CEO, Ahmed Shaheen, AMD and Head of Corporate Banking, Riad Mahmud Chowdhury, DMD and Head of Corporate Business, Eastern Bank Limited; Md Moniruzzaman, managing director, IDLC Investments Limited; Fakaruddin Ali Ahmed, CEO (Current Charge), MTB Capital Limited (Trustee of the Deal); Mahmudul Huq, Monisha Anwar Huq, Zahirul Hoque Chowdhury, representative from Trust Bank Limited; representative from IDLC Securities Limited, representative from IDLC Asset Management Limited, IDLC Income Fund, Community Bank Investment Limited, Chittagong Stock Exchange Limited were present among others on the occasion.