Axiata Game Hero adds 'Team Manager' to its e-football game
BI Report || BusinessInsider
Published: 17:01, 27 September 2022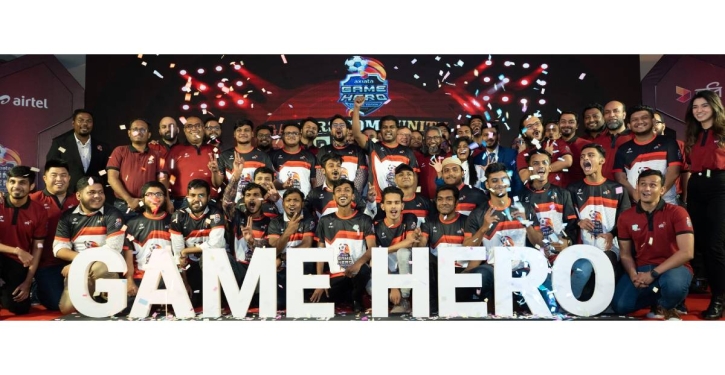 Participants of Game Hero Photo: Courtesy
Robi has declared the addition of a new e-football game, 'Team Manager', to its ongoing Axiata Game Hero competition at the "Axiata Game Hero: Gamers Community Meetup" at a city hotel in Dhaka Sunday evening.
Team Manager allows participants to assemble a virtual team of real-life football players and score points based on those players' actual statistical performance or their perceived contribution on the field of play actual performance during the world cup, read a press release.
Participants can start building their world cup team in Team Manager from October. But they can earn points from this game during the world cup football tournament days from November 20th till December 18th. Gamers from this competition has chance to win attractive prizes.
Meanwhile, the ongoing e-football competition of Axiata Game hero is set to host its regional final on December 17th in Malaysia, where top two players from each of the four countries- Bangladesh, Cambodia, Indonesia, and Malaysia, will participate in the grand finale. The Game Hero international level competition is being organised by Robi's parent company, Axiata Group Berhad, based in Malaysia.
Axiata's operating companies in Cambodia, Indonesia, and Malaysia are organising national level Axiata Game Hero competition in their respective countries just like the way Robi Axiata Limited is doing it in Bangladesh.
Robi's Acting Chief Executive Officer and Chief Financial Officer M Riyaaz Rasheed said: "Axiata Game Hero has already evolved into the biggest gaming platform of the country with global outreach. Considering the upcoming Football world-cup, the Axiata Game Hero competition is organising two football-based games since January this year. With the addition of another football focused games, Team Manager, a Virtual Premier League styled gaming competition, the Axiata Game Hero competition is only going to get more exciting. We look forward to seeing you at the grand finale of the competition in December later this year"