Mediacom bags 19 awards in 'COMMWARD 2022'
BI Report || BusinessInsider
Published: 18:37, 15 August 2022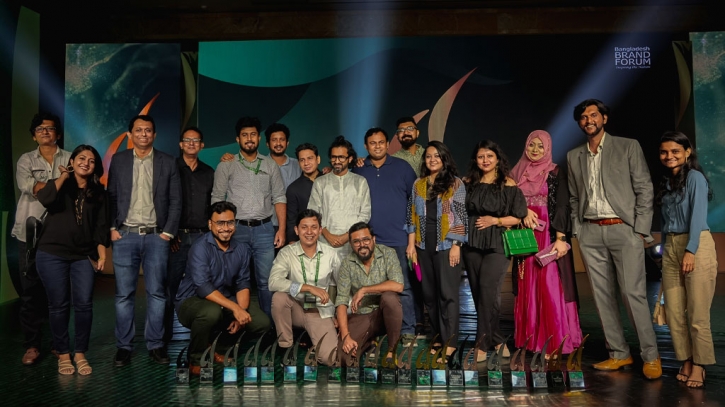 Photo: Courtesy
Advertising agency Mediacom Limited has bagged seven Gold, seven Silver and five Bronze awards in various categories in the recently announced 'Commward 2022' organised by Bangladesh Brand Forum.
Mediacom Limited has completed 25 years in the advertising industry of Bangladesh in 2022 and the agency is celebrating its silver jubilee with various events throughout the year.
And the celebration gets even more glorified with the achievement of winning 19 awards at the country's biggest recognition in the advertising industry, 'Commward', said a press release.
This year 'Commward' was held in the ballroom of a renowned five-star hotel on August 13 in Dhaka.
A jury panel, consisting of highly-experienced personalities and advertising experts from leading advertising agencies of the country selected the best advertisements.
More than 1300 contents were submitted from different organisations in the country.
Among them, Mediacom's brands Senora, Revive, Sepnil, Meril Petroleum Jelly, Radhuni, Chopstick, Frutika and Konka Fridge won a total of 19 awards, which is the second highest number for this year.
Mediacom achieved these awards in the category of Campaign for Women, Film, Copywriting, Film Craft, Best Innovative Use of Media, Best Use of Digital Media, Brand Experience and Promotion, Art Direction, Print, and Integrated Campaign for their outstanding campaigns throughout the year.
Also, as part of the event, Bangladesh Brand Forum honoured Mediacom Limited with special recognition for its exceptional contribution of 25 years in the advertising industry.
In this glorifying journey of 25 years, the agency has been completely managed by Bangladeshis since its inception.
Top heads of Mediacom expressed their gratitude and strong hope for this success to be continued.