UNDP, GP, BIDA to create economic opportunities for all
BI Report || BusinessInsider
Published: 15:35, 8 August 2022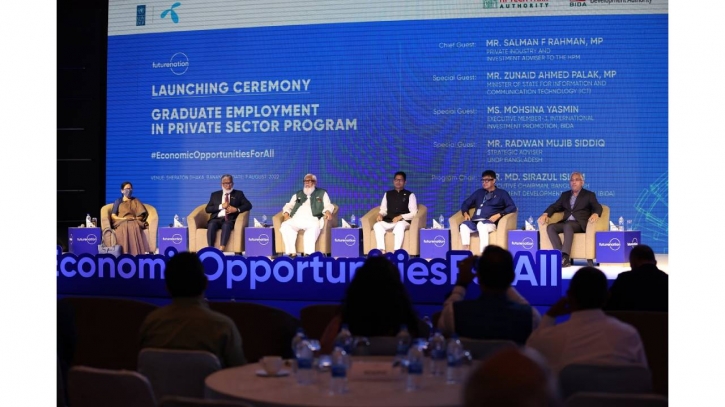 Photo: Courtesy
The United Nations Development Programme (UNDP), Bangladesh Investment Development Authority (BIDA) and Grameenphone, jointly launched graduate employment in private sector programme under an alliance called 'FutureNation' on Sunday in Dhaka.
Future Nation, an alliance of the private, public and development sectors, is created to accelerate the nation's future economic growth by enhancing the skills and potential of youth by identifying opportunities for development, employment, entrepreneurship, and investment in the post-pandemic situation, reads a press release.
The programme was organised to create economic opportunities for all and accelerate the journey towards a smart Bangladesh by 2041.
Sudipto Mukerjee, Resident Representative, UNDP, in his opening remarks said, "Global job market is consistently evolving. We must ensure our youth is prepared for the new reality presented by the fast-paced economic and technological evolutions."
Moreover, Salman F Rahman, private industry and investment adviser to Prime Minister addressing the event as chief guest, said, "After realising a 'Digital Bangladesh', the government is now working to establish a 'Smart Bangladesh' to be successfully involved in the 4IR, engaging in creating youth employment through various ICT initiatives, a pre-condition for sustaining Bangladesh's prosperity. I wholeheartedly applaud this initiative, 'FutureNation by Grameenphone, UNDP and BIDA."
"We must collaborate to reduce the disparity between the urban and rural areas by transforming the country into a digitally connected society. FutureNation is an of this co-creation," said Zunaid Ahmed Palak, state minister for ICT in his speech.
Besides, Radwan Mujib Siddiq, Strategic Advisor, UNDP, in a video message shared his vision about FutureNation.
He said, "FutureNation, with its advanced grooming method and more realistic assessment procedure, will help endow the youth with employable skills. I am delighted to see this coalition support the very critical area of building skills through their technology and innovation. Such an initiative will be impactful to upskill the youth and prepare them for real work."
Alongside, Yasir Azman of CEO, Grameenphone, said, "I see great possibility to work with the young people of Bangladesh to prepare them for the future industry. The time is now! Our youth will be the biggest contributors to take the journey of Bangladesh to become a developed nation by 2041."