Huawei extends humanitarian support in Natore
BI Report || BusinessInsider
Published: 10:52, 10 July 2022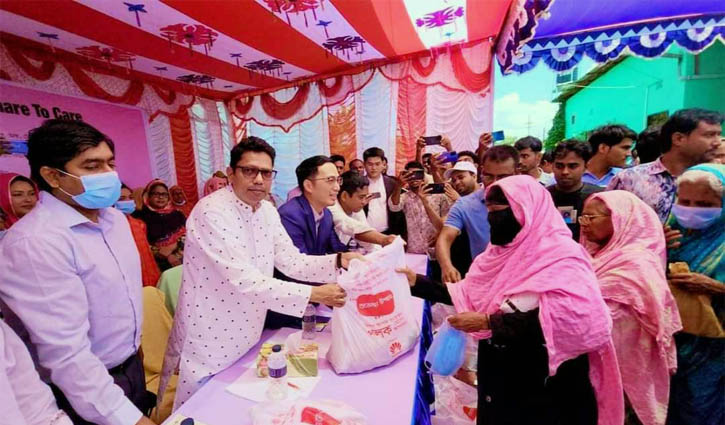 Photo: Courtesy
Leading global ICT infrastructure provider Huawei recently extended humanitarian support to the distressed people living in Singra, Natore.
A distribution program to hand out essentials among needy families was held on July 9. The distribution took place through an event, said a press release.
ICT State Minister Zunaid Ahmed Palak was present at the event as the Chief Guest with George Lin, President of Enterprise Business Group, Huawei Technologies (Bangladesh) Ltd and Mohammad Jannatul Ferdous, Mayor, Singra, in attendance.
The essentials were handed over by the guests to 'Pallishri Unnayan Sangstha' for distributing the items among the needy people.
Many families in Singra, Natore have been in distress. Hence, Huawei has stepped in with support for these people in need. Under this initiative, around 3,000 families within the region have received daily essentials including rice, lentil (moshur dal), wheat (atta), sugar, salt and potato.
Regarding the initiative, ICT State Minister Zunaid Ahmed Palak said, "Thousands of families in the remote areas of Bangladesh have been going through a tough time.
Huawei, recognizing the needs of these people, has come forward as a responsible business entity, extending a hand of support. As someone belonging to Natore, I felt the cries of my people. As an inhabitant of this region, I would like to extend a heartfelt gratitude to Huawei for taking this initiative."
"Huawei feels that we have a role to play for changing the lot of the needy people. That's why, Huawei has reached the people of Singra, Natore so that they can feel the respite from the ongoing troubles. I believe that the essentials, distributed by us today, will help these people, at least to some extent", said George Lin.
Mohammad Jannatul Ferdous, Mayor, Singra, said, "As inhabitants of such a remote area, many needy families residing in Singra are deprived of basic necessities and they often get exposed to the fury of natural calamities. As the mayor of this region, I want to extend my heartfelt gratitude to Huawei for standing beside our people, and giving them a brink of hope to hold on to."