Journey of civil service 2041 started to build 'Smart Bangladesh'
BI Report || BusinessInsider
Published: 14:04, 3 July 2022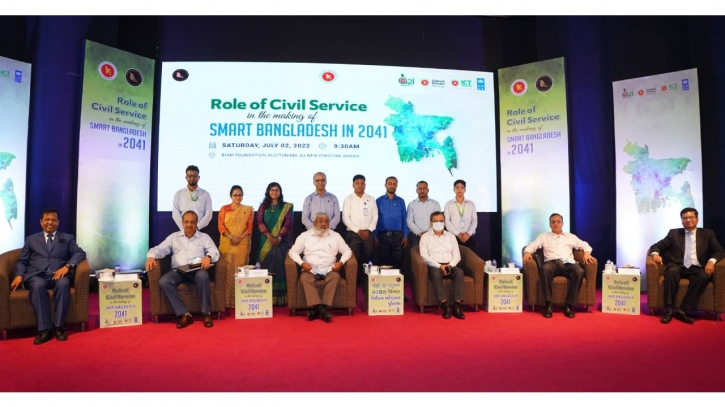 Photo: Courtesy
The A2i organised a seminar on 'Role of Civil Service in Building Smart Bangladesh 2041' under the auspices of the Cabinet Division in order to build a smart Bangladesh in 2041, at Biam Foundation Auditorium in the capital on Saturday.
Cabinet Secretary Khandaker Anwarul Islam was present as chief guest at the seminar, while NM Zeaul Alam, senior secretary of Department of Information and Communication Technology, was present as a special guest, said a press release.
"The main challenge will be to develop all branches of administration, management and governance. We have to move forward keeping in mind the global and national context," said the cabinet secretary.
Moreover, NM Zeaul Alam said, "ICT Department, said that there is no alternative to technology to build a happy and prosperous Bangladesh. At present broadband connection has reached 3600 unions in the country. High speed broadband connection will be provided to the rest of the unions of the country in phases. Information on portals needs to be updated regularly to provide reliable data through government websites. In addition, every department has to ensure cyber security."
Besides, speaking on the occasion, KM Ali Azam, senior secretary of the Ministry of Public Administration, said that the training curriculum for public administration has already been redesigned to create technology-friendly manpower to deal with the situation and what kind of technology will be used in 2041.
"However, in order to increase the capacity of those who will lead at that time, the students in the university have to be educated in their suitable education. At the same time, there should be a specific plan for the development of the private sector," he added.