Mastercard, Mutual Trust Bank and eCourier launch social media prepaid card for women
BI Report || BusinessInsider
Published: 15:34, 2 June 2022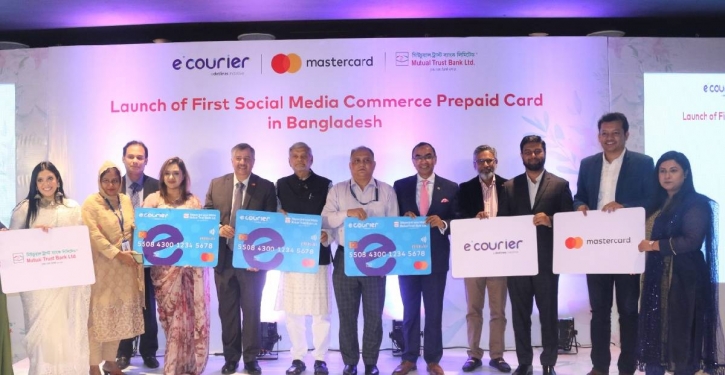 Photo: Courtesy
Mastercard, in collaboration with Mutual Trust Bank and eCourier, launched the first social media prepaid card focusing on F (Facebook)-commerce in Bangladesh on Wednesday.
The prepaid card is specifically designed for eCourier women entrepreneur to benefit from F-commerce.
According to Meta, formerly known as Facebook, in 2021, women created 40 percent of entrepreneurship-related Facebook groups in Bangladesh, according to a statement.
Data from eCourier showed that women constitute 80-90 percent of F-commerce entrepreneurs in Bangladesh. As such, this prepaid card will play an important role in enabling women entrepreneurs to run and promote their businesses on Facebook.
The card's dual currency facility will enable women entrepreneurs to boost their Facebook pages without third-party payment support. eCourier will transfer funds directly to a client's prepaid cards, eliminating the need for women entrepreneurs to go-in person to collect cash from eCourier.
Biplob Ghosh Rahul, chief executive officer, eCourier, said, "eCourier is thrilled to collaborate with Mastercard and Mutual Trust Bank Limited to announce the first ever co-branded prepaid card for women entrepreneurs".
Syed Mohammad Kamal, country manager, Bangladesh, Mastercard, said, "The pandemic accelerated a significant shift in consumer spending to e-commerce channels like Facebook. With women entrepreneurs dominating F-commerce in Bangladesh, Mastercard is delighted to collaborate for the first social media prepaid card that allows them to seamlessly buy and sell on Facebook".
Syed Mahbubur Rahman, MD & CEO, Mutual Trust Bank (MTB), said, "MTB has always been a pioneer in launching innovative payment solutions and we are delighted to collaborate with Mastercard and eCourier in announcing the Co-branded Prepaid Card".
In addition, the card offers exclusive discounts on e-commerce portals, jewellery shops, grocery, and clothing stores specially designed for cardholders.
Cardholders can also avail of many benefits including dual currency transaction facility, BOGO (Buy-One-Get-One) hotel stays, dining and lifestyle offers at more than 5,500 partner outlets in Bangladesh, easy payment for streaming platform subscriptions (Netflix, Amazon Prime, etc.), MTB Green PIN Service, 24/7 contact center service, SMS banking, and POS, ATM and QR-code transaction support.