Uber commemorates 5-year anniversary by raising awareness on noise pollution
BI Report || BusinessInsider
Published: 19:14, 24 November 2021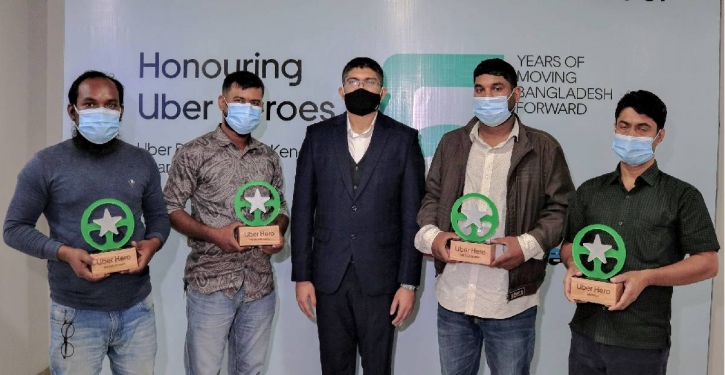 Uber honors its drivers for their outstanding services. Business Insider Photo
Uber commemorated its fifth anniversary in Bangladesh on Wednesday by pledging and encouraging drivers to be responsible when honking for reducing noise pollution.
It marked "No Honking Day" on November 23, to collectively raise awareness about the negative effects of noise pollution on health and wellness, said a press release.
"I am pleased to see Uber's support to raise awareness against noise pollution and its adverse effects on health and wellness," said Md Ashraf Uddin, director-general of Department of Environment, while applauding Uber for its commitment.
Uber has already started to raise awareness about responsible honking amongst drivers.
Additionally, it'll also place banners at strategic points and initiate in-car placement of awareness-raising materials.
Marking its 5-year anniversary, Uber also announced the first-ever Hero Driver Partner Awards to recognise, appreciate and celebrate their contributions to this journey.
Three car drivers and two moto drivers were awarded this year. Each awardee received a cash award of Tk 25,000 and a trophy.
They were awarded for their top performance, highest ratings, service quality, and community service during the pandemic.
These five awardees are: Md Milon, for his incredible service to the community, completing 14,383 car trips, and a top rating of 4.92; Md Kuddus, Miah for his incredible service quality and demonstrated extraordinary care for passengers, clocking 14,491 car trips with a rating of 4.82.
Then, Md Shojib Hossain, for being a Covid Hero completing the maximum number of car trips during Covid emergency, completing 9,393 lifetime Car trips with a top rating of 4.95; Md Mostafa Kamal, for his contribution of clocking the maximum number of Uber Moto trips with 9457 and a top rating of 4.91; and Md Ziaur Rahman, for his incredible service quality and demonstrated extraordinary care for passengers, completing 6,658 Uber Moto trips and a top rating of 4.93
"Bangladesh is emerging as one of the economic power hubs in the world and we stand committed to moving our country forward. Our pledge to curb noise pollution, providing vaccine support to our communities and creating livelihood opportunities are just a few of the many ways we stand committed," said Armanur Rahman, head of Bangladesh and East India of Uber, on hitting the 5-year milestone.