Robi customers can now use Upay app without internet charge
BI Report || BusinessInsider
Published: 19:09, 12 September 2021 Update: 19:37, 12 September 2021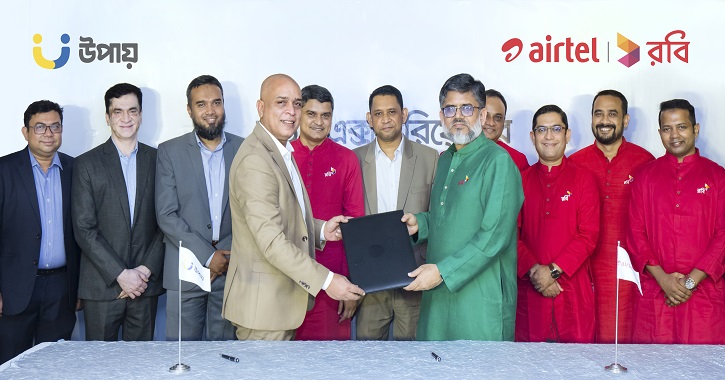 Sydul H Khandaker and Shihab Ahmad inking the agreement Photo: Courtesy
Robi offers its customers to use Upay app without any internet charge.
Robi and Upay signed an agreement recently in this regard, said a press release.
Sydul H Khandaker, managing director and chief executive officer of Upay, and Shihab Ahmad, chief commercial officer of Robi Axiata, inked the agreement on behalf of their respective organisations.
"Really happy to sign this agreement with Upay, which will help Robi and Airtel customers enjoy digital lifestyle using the benefits of Upay," said Shihab Ahmed.
UCB Fintech Company Member ATM Tahmiduzzaman, Chief Financial Officer Md Nur-E-Alam Siddiquee, Chief Strategy Officer Ziaur Rahman, Chief Market Development and Operation Officer Mahbubur Rahman Jesan, and Robi's Executive Vice-President Md Showkat Kader Chowdhury, and EVP Md Mahbubul Alam Bhuiyan were present, among others, at the signing ceremony, the release added.