Govt to weigh undisclosed money provision: Kamal
BI Report || BusinessInsider
Published: 17:01, 4 June 2021 Update: 17:29, 4 June 2021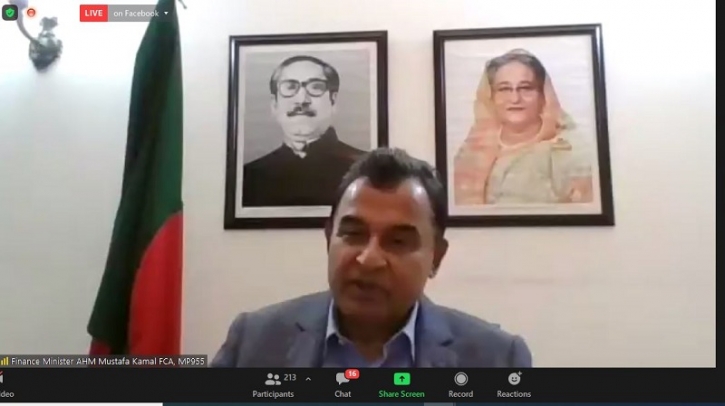 Finance Minister AHM Mustafa Kamal speaks in a post-budget virtual press conference on Friday. Photo: Mobile screenshot
Finance Minister AHM Mustafa Kamal has said the government will weigh the provision regarding legalising undisclosed money.
The finance minister made the comment at a post-budget virtual press conference on Friday.
He did not mention any clear statement about skipping the legalising undisclosed money issue in his national budget proposals he placed before the parliament on Thursday. He, however, said, "The government will weigh the profit-loss of the legalising undisclosed money provision."
The minister also said there are two sides of the provision — one side says it is injustice to the real businessmen but the other side says more money comes to the stream of the business in the country.
"We do not provide the option to whiten the black money because it is generated from corruption but the government allows legalising undisclosed money by paying tax or VAT," he said.
The ongoing opportunity of undisclosed money provision is due to expire on June 30, 2021.
In the budget for the FY21, the government offered legalising undisclosed money by paying tax at 10 per cent flat rate.
Under the opportunity, people are allowed to invest their undisclosed money anywhere including cash, dividend, share, debentures, etc.