Ansar VDP Bank seeks funds from stimulus interest subsidy
Asif Showkat Kallol || BusinessInsider
Published: 17:48, 7 June 2021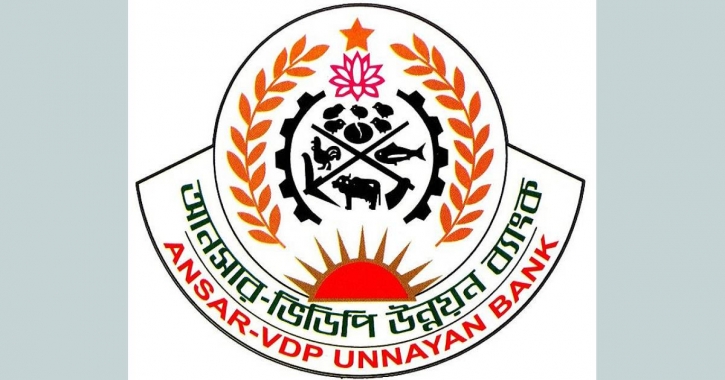 Ansar-VDP Unnayan Bank logo
Ansar-VDP Unnayan Bank, the state-owned specialised bank, has sought funds from the interest subsidy set aside for the payment against loans of the Covid-19 linked incentive packages disbursed to the affected businesses.
The Financial Institutions Division on Sunday wrote to the senior secretary of the Finance Division to take necessary measures about the bank's application, sources said.
On May 21 last year, Prime Minister Sheikh Hasina announced a stimulus package to waive Tk 2,000 crore bank interest of the businesses hit hardest by the nationwide shutdown enforced to contain the coronavirus pandemic.
The government specialised bank has been facing a liquidity crisis due to the pandemic, said an official at the Finance Division.
As a result, the specialised bank sought to fund the prime minister announced to fund the stimulus package to waive Tk 2,000 crore bank interest of the businesses affected badly by the pandemic.
According to the finance minister's budget speech, a total of 7280 businessmen and entities benefited from waiver interest of loan fund Tk 2000 crore. But in November, the public and private banks demanded Tk 1,224.82 crore subsidy interest fund.
Major General Kazi Sharif Kaikobad, Chairman of Ansar VDP Unnayan Bank, told the Business Insider Bangladesh, "We have sought funds from the interest subsidy of loan incentive package to solve the liquidity problem of the bank."
Of the Tk 100 crore issued capital of the bank, the government paid Tk 25 crore for its stake. But the Ansar-VDP members have so far paid only Tk 30.22 crore instead of Tk 75 crore.
The bank failed to attract the Ansar and VDP members to buy the bank's shares. So, the only alternative left is to request the government to invest more in the bank.
At present, there are over 60 lakh Ansar and VDP members in Bangladesh who can buy up to 10 shares worth Tk 100 each. In the last two decades, around 25.58 lakh members bought shares of the bank.
The government established the bank in 1996 under a special law with 25 percent state-owned shares and the rest available for Ansar and VDP members. Its main objective was to ameliorate the economic condition of around 6 million Ansar-VDP members across the country.