StanChart, Channel i launch 9th Agrow Award
BI Desk || BusinessInsider
Published: 21:44, 12 November 2023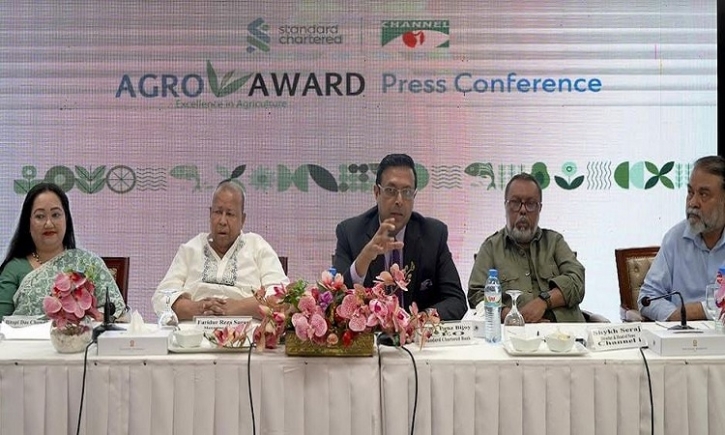 Photo: Collected
Standard Chartered and Channel i have officially inaugurated the 'Standard Chartered - Channel i Agrow Award 2023'.
Launched by Standard Chartered in 2014, this year's Agrow Award is the ninth edition of the event, reports BSS
This year also marks the fifth collaboration between the Bank and Channel i. The annual programme is a showcase event aimed at spotlighting and honouring a variety of remarkable individuals and organisations for their significant contributions and dedication to Bangladesh's agriculture sector.
This year, the Standard Chartered - Channel i Agrow Award will recognise winners in the following twelve categories: Lifetime Achievement; Farmer of the Year, Male; Farmer of the Year, Female; Resilient Small-Scale Farmer, Male; Resilient Small-Scale Farmer, Female; Hero for Change; Best Journalist; Jury Special; Best Agricultural Organisation in Research, Innovation and Technology; Best Agricultural Organisation in Support and Execution; Best Exporter; and Best Climate Adaptation Solution. Best Climate Adaptation Solution is a new award category that aims to recognise the importance of driving sustainable and scalable solutions.
Naser Ezaz Bijoy, Chief Executive Officer, Standard Chartered Bangladesh, said, "Change and meaningful development across our nation's agriculture sector has the ability to expand food security and economic opportunity, improve health and education, protect the environment, and increase resilience to climate change. I am proud to celebrate the launch of the 9th Agrow Award and to work with Channel i once again to honour the determination, out-of-the-box thinking, and innovative spirit of our nation's farmers, scientists, researchers, experts, and organisations."
Faridur Reza Sagar, Managing Director of Channel i said, "Agriculture is a unique profession to the whole world. Farmers are directly involved in producing the food for our survival. We do not have the power to recognize the relentless services they perform under the scorched heat of the sun and rain for ages. But as an opportunity to acknowledge the debt, we are delighted to host the Standard Chartered - Channel i Agrow Award."
Shykh Seraj, Director and Head of News of Channel i, said "The contribution of youth is evident if you look any major achievement of the world. The agriculture that we see today in Bangladesh has evolved in the hands of the youth. Young people around the world are turning away from farming sector. So, this event is to inspire them.
Besides, farming scenario and farmers are suffering hugely due to the adverse impacts of climate change. So, it is indispensable to connect them with modern technology. Every year we try to draw attention to these issues through the Standard Chartered - Channel i Agrow Award."
Over the course of the next few months, applications for the Standard Chartered-- Channel I Agro Award will be collected and duly assessed.
As with all previous iterations of the programme, a carefully selected Jury Board - consisting of local and international specialists, academics, and industry leaders - will evaluate submissions. Till date, a total of 66 awardees have been recognised for their varied achievements and efforts.
As the nation's long-term partner in progress, Standard Chartered has consistently been linked to Bangladesh's inspiring story of growth and resilience.
For more than 118 years, the Bank has remained dedicated to driving commerce and development by investing in communities; expanding the reach and scale of services and initiatives to promote greater inclusion; and creating new opportunities for stakeholders.