Banks' chief executives must bear responsibility to control defaulted loans: BB governor
Published: 19:55, 24 May 2023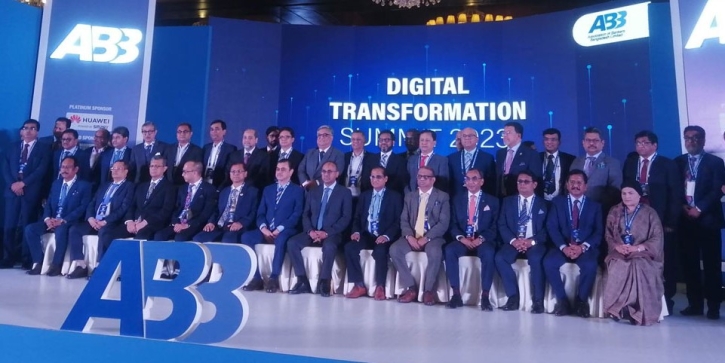 Photo: Collected
Bangladesh Bank Governor Abdur Rouf Talukder said on Wednesday that management and chief executives of the banks will have to shoulder the responsibility to reduce defaulted loans as such bad loans have become a serious headache in the banking sector.
The Governor made the statement while speaking at the opening ceremony of the Digital Transformation Summit, organised by the Association of Bankers Bangladesh (ABB) at a hotel in the capital on Wednesday (May 24).
He said that 75 percent of the country's transactions will take place through digital channels by 2027.
On Monday, the ABB held a press conference and said that it is not possible for the banks and the Bangladesh Bank alone to control defaulted loans.
The ABB leaders said that it would require social commitment. The apex body had also said that legal measures should be tightened and manpower should be increased in the sector to control defaulted loans.
On Wednesday, the BB Governor, however, pointed at the banking sector leaders, especially the chief executive officers, to shoulder the responsibility for controlling bad loans.
"If the top authorities take strong action, the problem of defaulted loans in the banking sector will be reduced. The central bank is trying to formulate a far-sighted policy in this regard," the Governor said.
He also said that it needs to change the banking culture to reduce the bad debt of the banking sector and to ensure good corporate governance.
"To do this, separate planning and effective initiatives are required. Apart from this, for the ongoing efforts of digital transformation of the banking sector, strong risk management should be developed so that the development of the bank is not hindered in this process of transformation," the Governor said.
ABB Chairman Salim RF Hossain said that the conference will provide observations on how the growth of digital financial services in the country can be accelerated. It will help banks adopt necessary strategies to ensure digital transformation faster.
The ABB chairman suggested research should continue on policies that could affect the financial services sector.
He also emphasised on increasing mutual understanding between banks and fintech companies in the current context.
More than 150 officials of 46 commercial banks were attending the conference along with top officials of banks. Experts from local and international companies and organisations conducted various sessions. The two-day conference will end on Thursday.