Governor warns bank CEOs about trade-based money laundering
BI Report || BusinessInsider
Published: 19:40, 15 November 2022 Update: 20:24, 15 November 2022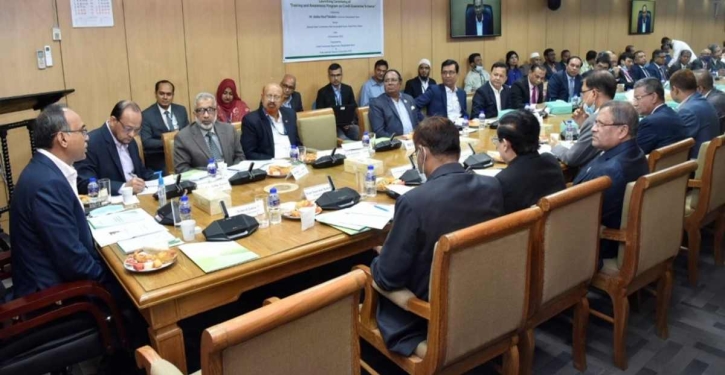 Photo: Collected
After years of silence, finally, Bangladesh Bank has admitted cases of trade-based money laundering by unscrupulous businesses.
Amid this situation, BB Governor Abdur Rauf Talukder on Monday warned top bankers against over-invoicing of letters of credit (LCs) for imports.
"The country has been losing foreign currency due to banks' failure to assess the real market prices of imported goods," Talukder told the chief executive officers of banks at Bangladesh Bank's headquarters in Dhaka.
There are cases of under-invoicing also, for which the government is missing taxes, he said.
The governor said this at a meeting on the "Training and Awareness Program on Credit Guarantee Scheme" jointly organised by the BB and International Finance Corporation. CEOs of banks attended the programme.
At the meeting, the governor said that the central bank has detected trade-based money laundering in a recent special audit.
Earlier in September, Bangladesh's finance minister blamed money laundering through the manipulation of trade invoices.
A survey by the Bangladesh Institute of Bank Management (BIBM) in 2019 also found that trade-based money laundering in Bangladesh was increasing fast.
Not only Bangladeshi institutions but also international organisations detected trade-based money laundering from Bangladesh.
Trade-related illicit financial outflows from Bangladesh persist strongly, according to a report published by Washington-based think tank Global Financial Integrity (GFI) in December last year.
The report identified a whopping $82.75 billion of the value gaps in Bangladesh's trade between 134 developing countries and all of their global trading partners in the last 10 years between 2009 and 2018, according to Business Insider Bangladesh reports.
The value gaps averaged $8.275 billion a year or 17.3 percent of Bangladesh's total trade.
Businesses do it through misinvoicing in a bid to escape taxes. The sum identified in the value gaps is equivalent to two Padma Bridges' costs.
Bangladesh has been witnessing phenomenal growth in its external trade in recent years.
According to BB data, the country's external trade stood at $83 billion in fiscal 2019-20 and over $97 billion a year later. But the figure jumped to over $1340 billion in 2021-22, of which, over $82 billion was spent on imports.
Analysts said the import of fancy goods like televisions, computers and mobile phones is known to be the major item of the racketeers. Import of low or zero-dutiable goods, such as capital machinery, is over-invoiced by unscrupulous businesses to pile up funds abroad.
Exports are also over-invoiced and under-invoiced depending on what the money launderer intends to do. If they want to enjoy the duty drawback and subsidies offered by the government for export increase, over-invoicing is the trick of their trade.