IDRA to adopt high quality, globally accepted disclosure systems: Chairman
BI Report || BusinessInsider
Published: 19:02, 25 September 2022 Update: 19:43, 25 September 2022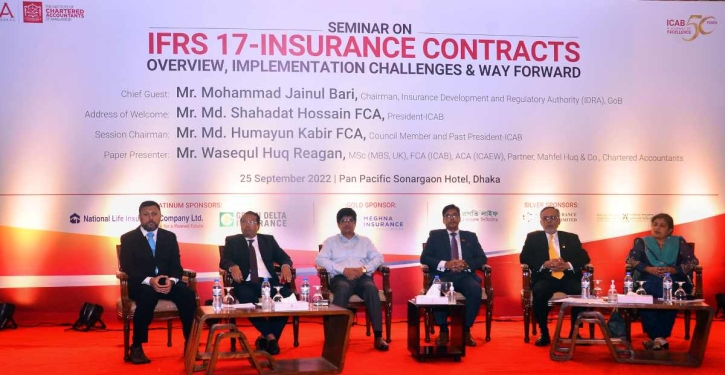 Photo: Collected
Insurance Development and Regulatory Authority Chairman Mohammad Jainul Bari has said his organisation will pay more attention to complying with 'IFRS 17' which implies developing high-quality, understandable, enforceable, and globally accepted accounting and sustainability disclosure standards.
He was addressing a seminar as chief guest on "IFRS 17-Insurance Contracts: Overview, Implementation Challenges and Way Forward," in the city on Sunday.
The seminar was organised by the Institute of Chartered Accountants of Bangladesh (ICAB).
Bari said as soon as these standards become effective next year, insurance companies in Bangladesh need to prepare their financial statements according to these standards.
The IDRA will prepare an action plan to implement these standards as soon as it becomes effective in January. He sought the cooperation of various stakeholders including ICAB and FRC in the implementation of IFRS-17 over insurance contracts.
Md Shahadat Hossain FCA, President of ICAB delivered the address of welcome and Md. Humayun Kabir FCA, Council Member and Past President of ICAB moderated the session. ICAB Vice President Fouzia Haque FCA delivered her closing remarks.
The ICAB President said the insurance companies are the largest investors in the financial market in Bangladesh. Therefore, the growing linkage between the insurers and the banks should be considered the safeguard the financial stability of the country.
Wasequl Huq Reagan presented the keynote paper and said IFRS 17: Insurance Contracts took 20 years to become a reality as he highlighted the complexity of the standards and overcame many challenges posed by the interim standard IFRS 4.
IFRS 17 ensures more transparent and comparable financial statements. It permits 3 models for measurement of insurance contracts liability which are the building-block approach or general measurement model (default model), premium allocation approach (PAA), and variable fee approach (VFA), respectively.
Chairmen, managing directors, chief executive officers, and directors of life and non-life insurance companies took part in the seminar and exchanged their views.