Sonali Bank UK shut down permanently
BI Report || BusinessInsider
Published: 11:18, 16 August 2022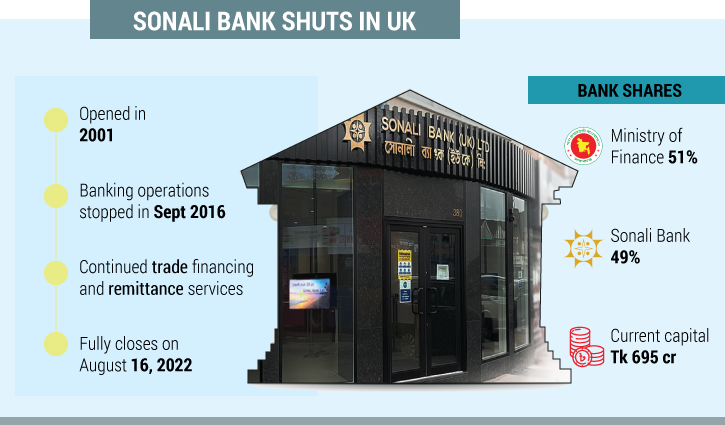 Business Insider Bangladesh illustrations
The Sonali Bank UK Limited established two decades ago has been shut down on Tuesday (today), leaving a trail of a legacy of corruption and a bad reputation, a finance ministry official said.
The bank was opened in 2001 and after two decades into its journey, the Bank of England has ordered its shutdown.
The institution has been devastated by the failure to prevent money laundering and irregularities and corruption. Bangladesh's dream bank is closing abruptly on August 16.
Sonali Bank UK was formed with capital provided by the Bangladesh government and the state-owned Sonali Bank. As far as the owner is concerned, the Ministry of Finance owns 51 percent of the shares while the remaining 49 percent is owned by Sonali Bank Limited.
Following the provisioning of several rounds of capital from the country, now its capital is only 6.38 crore pounds or Tk 695 crores in Bangladeshi currency.
Sonali Bank UK Limited was awarded a loan of $60 million from Bangladesh Bank's reserve to sustain its existence. However, in the end, all the investments of Bangladesh ended up in vain.
The Bank of England's Prudential Regulation Authority (PRA) and Financial Conduct Authority (FCA) are closing Sonali Bank UK.
On January 27, the ethnic bank was notified about the matter. Under this situation, the financial institutions department of the Ministry of Finance responded quite quickly to save the bank.
The idea was to dissolve the bank and have two non-bank financial institutions in the UK. The Financial Institutions Division is sending a summary to the Prime Minister in this regard, incorporating a total of four proposals.
The proposal suggested the creation of a company called 'Sonali Pay UK Limited' meant for sending remittances back to Bangladesh and 'Sonali Bangladesh (UK) Limited' to guarantee the loans of Bangladeshi banks. To get a license and other paperwork, one more million pound sterling is required to send to Britain.
In the summary of the Ministry of Finance prepared to be sent to the Prime Minister, it is said that in 2016, the Bangladeshi Bank's erstwhile CEO Md. Ataur Rahman Pradhan (currently serving as CEO and Managing Director of Sonali Bank Limited) was fined 76,400 pounds for negligence, supervisory deficiencies and other faults.
On December 4, 2018, the penalty decision was enforced against Ataur Rahman Pradhan and was published on the FCA website.
The banking operations of Sonali Bank UK were also stopped from September 22, 2016. Since then, the bank has been functioning only as a trade financing and remittance house.
Although the bank is dead, its boss Ataur Rahman Pradhan has been remunerated back home. In 2016, the government appointed Pradhan as the Managing Director (MD) of the state-owned Rupali Bank. Then in 2019, he was appointed as the MD of Sonali Bank, the largest bank in the country.