Will finance ministry extend contracts of MDs in 4 state banks?
BI Report || BusinessInsider
Published: 21:42, 30 July 2022 Update: 11:56, 31 July 2022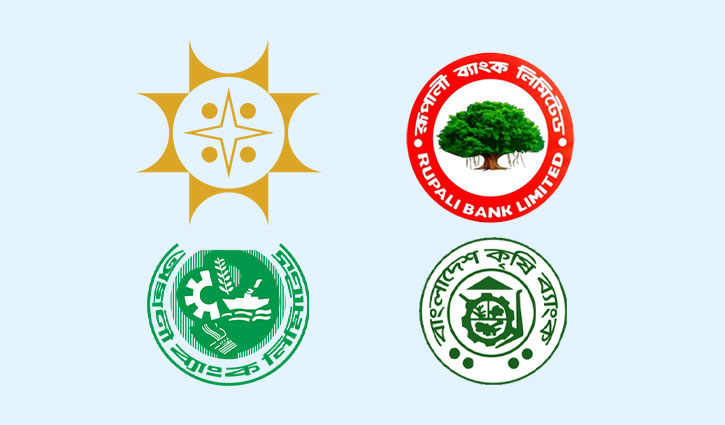 Logos of the four state-run banks. Graphics: Business Insider Bangladesh
The tenure of managing directors of four state-owned banks will end in the next two months. Aspirants are competing for the posts.
The terms of the MDs of Sonali, Agrani, Rupali, and specialised Bangladesh Krishi Bank are ending soon, a powerful group is out for keeping the incumbent MDs for another 3-year term, an official of the financial institutions division of the ministry of finance said.
Requesting anonymity, the official said retention of those MDs would save a vested quarter who have been keeping on rescheduling their defaulted loans.
According to banking division sources, taking into consideration the issue of irregularities and corruption in their respective banks, the government had decided not to reappoint any of these persons as MD of these banks for another term. In this case, the MDs of the state-owned banks have been handed down a note that they are old enough (62 years) to retire.
But, as a 'powerful group' was mounting pressure, the Financial Institutions Division withdrew its note.
It would be worth citing that in 2019, Shams-ul-Islam was appointed as the MD of Agrani Bank for the second term. The ACC had investigated him on grounds of corruption and irregularities. His contract will expire on August 28, this year.
There are allegations of irregularities and corruption against the current top executive officer of Sonali Bank, too. Ataur Rahman Pradhan had been the head of Sonali Bank UK from March 2012 to May 2015 before being appointed as Sonali Bank MD.
During this time plenty of allegations were raised against him.
On December 2, 2018, a financial regulatory body in the United Kingdom---the Financial Conduct Authority (FCA)--- had announced that they were going to fine Prodhan, the former CEO of Sonali Bank UK, £76,400 ($97,900) for failing to adequately oversee the company's anti-money laundering functions. A number of media houses had published on his alleged corruption and irregularities. The influential band is lobbying core government functionaries to keep him for another term as MD of Sonali Bank. His term will expire on August 27.
The executive director of Transparency International, Bangladesh, Dr Iftekharuzzaman told Business Insider Bangladesh that the responsibility goes to the authorities for reappointing alleged corrupt officials at the principal positions of the state-owned banks.
He said the country's defaulted loans are continuing to expand amid surveillance and incidents of the embezzlement of public money have been occurring now and then.
"This culture should be stopped for the protection of public money," he added.
Meanwhile, Md Obaid Ullah Al Masood served as the Managing Director and CEO of Sonali Bank from August 22, 2016, to August 21, 2019, before being appointed as the CEO of Rupali Bank. Prior to that, he was the MD of the state-owned Karmasangsthan Bank ('Employment Bank') in Bangladesh. There are allegations of gross irregularities and corruption against this bank.
Besides, the term of the MD of Bangladesh Krishi Bank, Md Ismail Hossain, will expire at the beginning of September.