Suspicious transaction, activity reports rise 44%
BI Report || BusinessInsider
Published: 14:51, 22 June 2022 Update: 15:36, 22 June 2022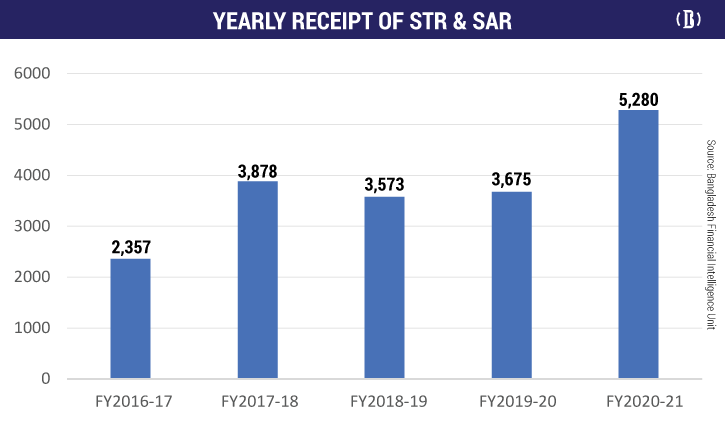 Graphics: Business Insider Bangladesh
Bangladesh Financial Intelligence Unit or BFIU has been getting an increasing number of suspicious transaction reports (STR) and suspicious activity reports (SAR) from different reporting organisations because of an increasing number of fraudulent activities in e-commerce and MLM business.
According to a BFIU document, the number of STR and SAR has increased by nearly 44 percent to 5,280 in fiscal 2020-21. The number was just 3,675 a year ago.
Although Covid-19 existed during FY21, the number of STR and SAR increased significantly for several reasons that include capacity development and increased awareness of the reporting organisations, increased fraudulent activities in e-commerce and MLM business, and the government's stance on the zero-tolerance policy against corruption.
Data shows BFIU has been receiving STR and SAR from the reporting organisations and other sources in an increasing trend over the years.
Month-wise data of STR and SAR in FY21 depicted that the number of both STR and SAR increased slowly and reached a peak in the month of December 2020, fell down in January 2021 and then again rose to a peak in June 2021.
The highest number of receipts of both STR and SAR was in June 2021 whereas the lowest number was in August 2020. The government restriction on communication and movement due to the Covid-19 pandemic was the main reason for the lowest number of the receipt of STR/SAR in August 2020. The month-wise average number of STR was 225 and SAR was 215 in FY21 while it was 158 and 148 respectively in the previous financial year.
BFIU received 4,495 or 85.13 percent of the total STR and SAR in FY23 from banks, followed by money remitters 670 STR and SAR.
Requests for information exchange on suspicious transactions from intelligence agencies and tax authorities also increased by 79.67 percent in FY21 compared to those of FY20.
"Due to e-commerce scams, fraudulent activities during the Covid-19 pandemic, Bangladesh government's strong stances against corruption, the number of information requests increased significantly," according to BFIU's annual report for FY21.
Bangladesh Police, Anti-Corruption Commission and Intelligence Agencies are the major users of financial information, said BFIU.
Submission of STR and SAR is a legal obligation for the reporting organisations under the provisions of section 25(1)(d) of the MLPA, 2012 and section 16(1) of the ATA, 2009.
A suspicious transaction or activity reporting system has been introduced to protect the reporting organisations from being exploited by the money launderers and terrorist financiers and to ensure the soundness of the national anti-money laundering laws and counter-terrorist financing programme.