IDRA chairman Mosharraf Hossain resigns
Published: 12:37, 15 June 2022 Update: 17:25, 15 June 2022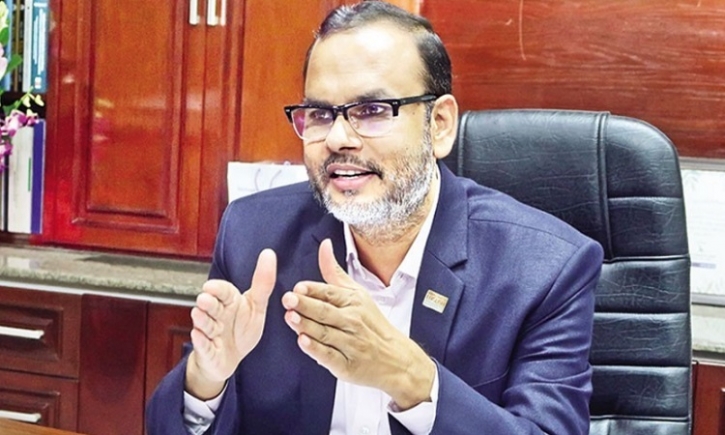 IDRA Chairman Dr M Mosharraf Hossain resigns from his post on June 14, 2022. Photo: Collected
Dr M Mosharraf Hossain, chairman of the Insurance Development and Regulatory Authority (IDRA) has resigned from his post, according to an official of IDRA.
Hossain, who is a finance professional having three decades of experience in the insurance & capital market, was in news headlines recently because of his high capital market exposure.
Mosharraf Hossain submitted his resignation letter to the finance ministry on Wednesday and the ministry accepted it, said an official of the IDRA on Wednesday.
He was appointed as chairman of the IDRA in September 2020. Later, Bangladesh Financial Intelligence Unit (BFIU) claimed to have found allegations of financial irregularity worth Tk 40.81 crore.
The BEIU recently submitted a report to the Anti-Corruption Commission (ACC) and a respective court based on evidence it had gathered in this connection.
ACC summons Mosharraf
Following the allegation, the ACC on June 1, summoned Mosharraf Hossain to submit his wealth statement before the corruption watchdog.
Mosharraf has been asked to appear before the ACC to submit his wealth statement within 21 working days since the notice was served.
HC rules asking why appointment of IDRA chairman should not be declared illegal
The High Court on September 30, 2021, issued a ruling upon the respondents to explain in four weeks as to why the appointment of Mosharraf Hossain, should not be declared illegal.
The High Court bench of Justice M Enayetur Rahim and Justice Md Mostafizur Rahman passed the order after hearing a writ petition filed challenging the appointment of Mosharraf Hossain, as it had violated the Section 7(b) of the IDRA Act, 2010.
In the ruling, the HC also wanted to know why the inaction of the respondents in removing Mosharraf from the chairman post according to the Sections 14(1)© and 14(2) of the IDRA Act, 2010 should not be declared illegal.
It also issued a show-cause notice to the respondents to explain on what authority Hossain is still holding the post of IDRA chairman. The finance division secretary and others respondents had been asked to comply with the ruling.
Abu Saleh Mohammad Amin Mehedi, an investor, had filed the writ petition as 'public interest litigation.'
Mosharraf holds posts of two companies
Mosharraf Hossain was holding the managing director post of the two companies—Loves and Lives Organics Ltd and Gulshan Valley Agro Industries Ltd, respectively.
The two companies were incorporated with the Registrar of the Joint Stock of Companies and Firms (RJSC) on May 9 in 2017 and on January28 in 2018, respectively.
But, Mosharraf, concealing all this information became a member of the IDRA in April, 2018 and was made chairman of the organisation in September, 2020.