BB sells $70mn at Tk 92.80 per dollar on Tuesday
BI Report || BusinessInsider
Published: 18:52, 14 June 2022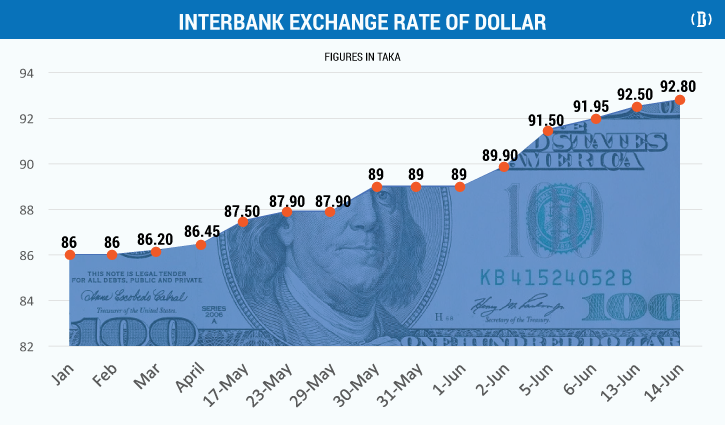 Graphics: Business Insider Bangladesh
Bangladesh Bank sold over $70 million to banks on Tuesday to ease the volatility in the foreign exchange market, according to a BB official concerned.
But the central bank charged an additional 30 paisa to Tk 92.80 per dollar from the banks that bought the greenback to meet their burgeoning demand.
On Monday, the BB hiked the interbank exchange rate by 50 paisa to Tk 92.50 a dollar, at which it sold over $100 million.
Meanwhile, the BC sale rate for import payments and exchange house rate remain unchanged at Tk 93 per dollar, which treasury bankers think should be adjusted higher in line with the rising interbank rate.
Bangladesh has been in dollar crisis for the last two months as import bills are higher than the supply from export proceeds and inward remittances.
The trade gap stood at over a record $27 billion during the July-April period of the outgoing fiscal year. The inflow of remittances also went down by 16 percent during the first 11 months of the year. While, import payments surged by over 41 percent to $74.22 billion in the first 10 months till April, according to BB data.