What could be the new exchange rates?
BI Report || BusinessInsider
Published: 22:47, 26 May 2022 Update: 02:02, 27 May 2022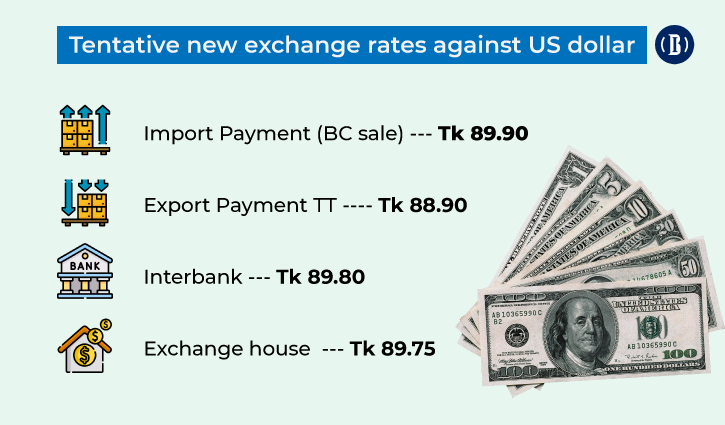 Graphics: Business Insider Bangladesh
The gap between BC sales and export payments may be shortened to Tk 1, down from Tk 5-6, following a central bank's decision to have a uniform exchange rate for different types of payments.
The move, if implemented, would benefit importers the most as they are now paying as much as Tk 96 for settling import bills.
On the other hand, exporters and remitters will be disadvantaged as they will be losing bargaining power to get more for the greenback they are earning.
This development came at a tripartite meeting on Thursday, involving Bangladesh Bank and the Bangladesh Foreign Exchange Dealers Association (BAFEDA) and the Association of Bankers, Bangladesh (ABB).
The uniform rate is set to be fixed on Sunday after banks submit their proposal to the central bank on how much the rate should be.
However, the Business Insider Bangladesh has learned from highly-placed sources that the banks will propose Tk 89.90 for BC sales (import payment), Tk 88.90 for TT (export payments), Tk 89.80 for interbank, and Tk 89.75 in the exchange houses.
According to central bank data, BB has sold $5.5 billion to banks this fiscal year till date. Of the amount, $80 million was sold on May 19. But that amount was peanuts compared to the market needs, bankers said.
Also, the BB considers the balance of a bank's Nostro account for selling the dollar. A Nostro account refers to an account that a bank holds in a foreign currency in another bank to facilitate foreign exchange and trade transactions. Every bank has a certain limit that it can maintain in its Nostro account, according to BB guidelines.