IFIC's share sale in a Nepal bank hits snag
BI Report || BusinessInsider
Published: 22:39, 15 January 2022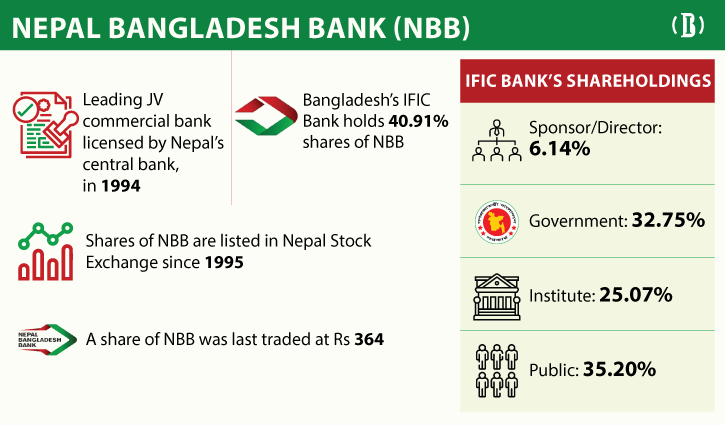 Graphics: Business Insider Bangladesh
IFIC Bank's move to sell its entire holdings in joint venture Nepal Bangladesh Bank got snagged as a Nepali court has ordered to stop the process of buying or selling of shares for the time being, newspapers in the Himalayan country reports.
The Kathmandu District Court has recently passed the order after a case filed by Motilal Dugar, a Nepalese businessman who is also the chairman of Sunrise Bank.
Presently, IFIC Bank holds 41 percent shares in Nepal Bangladesh Bank.
IFIC Bank is yet to know the update of the Nepalese court's verdict.
"We did not know anything about the embargo of the Nepalese court regarding IFIC Bank's share sale," Shah Md Moinuddin, deputy managing director and head of international division, told the Business Insider Bangladesh on Saturday night.
In the order issued by the Nepalese court, it is said that Motilal Dugar had already signed an agreement to purchase 3,68,27,426 shares of NBB at Nepalese Rupee 157 per share.
According to the court order, the agreement was acknowledged and accepted by the opposition Nepal Bangladesh Bank on March 31, 2021.
However, the bank had then left the Dugar Group a couple of months ago and made a fresh announcement that Chaudhary Group headed by Binod Chaudhary was in the process to buy the shares of NBB owned by IFIC Bank.
This had led Dugar to file an application against the ongoing sale and buy procedure.
Chaudhary Group has a majority stake in another Nepalese lender Nabil Bank.
In July 2021 IFIC Bank announced that it wanted to sell its entire holdings in the NBB and accordingly, it had disclosed it to Dhaka and Nepal's stock exchanges.
NBB was established in 1994. Bangladesh's IFIC Bank has nearly 41 percent stakes in NBB, while the Government of Bangladesh owns 32.75 shares in IFIC Bank, sponsors own only 4.11 percent and the remaining stakes are held by some institutes and members of the public.
After the IFIC's announcement of its share sale, the Nepalese business community sought Prime Minister Sheikh Hasina's intervention to make IFIC Bank change its plan to withdraw its investment from Nepal.
On behalf of the Nepalese business community, LB Shrestha, president of the Nepal Bangladesh Chamber of Commerce and Industry had written the letter addressing Prime Minister Sheikh Hasina to intervene in the matter so that IFIC Bank could reconsider its decision to withdraw its entire holdings in the Himalayan bank.
"Excellency, the establishment of NBB has brought the people of Nepal and Bangladesh much closer and the name of Bangladesh has become very much familiar and a day-to-day name for the hundreds of thousands of Nepalese people," says the letter.
NBB has now more than 100 branches spread across the country - from cities to villages - and has accounts of more than 500,000 customers.