No more cheap money as bank deposit rates rising
BI Special || BusinessInsider
Published: 22:19, 24 November 2021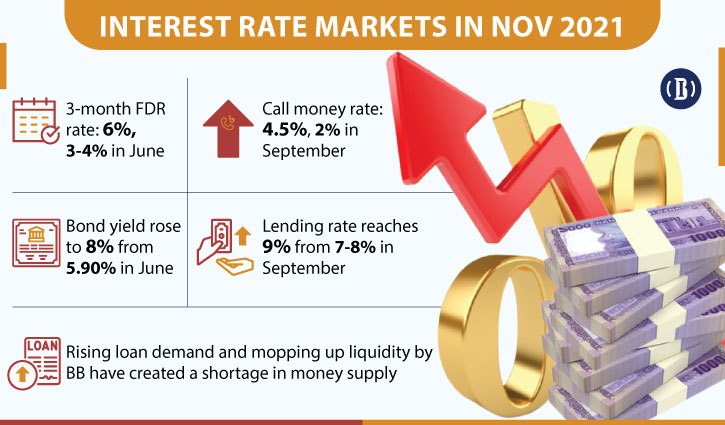 Photo illustration: Business Insider Bangladesh
Even in September most of the banks were liquid enough to lend at 7 to 8 percent, lower than the central bank's regulatory cap of 9 percent. Accordingly, relatively good banks were not so interested in taking deposits.
In less than two months the situation has been reversed. Now banks are looking for deposits, even at higher than the three-month-average inflation rate.
"We are now giving 6 percent for deposit, up from 4 percent two months ago," said a branch manager of a private commercial bank in Dhaka.
He said deposits that offered 3 to 4 percent now rose to 5.6 percent in August because of the central bank's instruction. The rate has gone up further as the demand for loans is rising, he said.
The trend is also evident on the other money markets.
Interest rate in the call money market, which was subdued for over a year, has hit 4.5 percent, up from less than 2.2 percent in October.
Also, the yield on investment in bonds has increased to 8 percent in recent days from 5.9 percent three months ago.
Why this reversal in interest rate?
The banking sector as a whole had an excess liquidity worth Tk 2.31 lakh crore at the end of June and the central bank was busy with withdrawal of the surplus money from the market. The excess fund came down to Tk 2.20 lakh crore in October
Now banks are facing liquidity shortage and they are forced to hike deposit rates to bring in money to the banks. So, there is a pressure on lending rate also.
Bankers say a rise in demand for loans because of fast economic recovery, the Bangladesh Bank's order to hike deposit rate at par with 3-months' average inflation rate and the mopping up liquidity through Bangladesh Bank Bills are the three key drivers that have contributed to this liquidity crunch.
"Interest rate is rising so fast that it will be very difficult for banks to keep the lending rate within the regulatory cap of 9 percent," Mirza Elias Uddin Ahmed, managing director & CEO of Jamuna Bank, told the Business Insider Bangladesh.
He said they gave loans at 7 to 8 percent as there was enough cash in the bank for months. But it won't be possible now as the rate in the call money market is rising fast and the yield on bonds as well, he noted.
Ahmed said the BB has mopped up huge liquidity from the banks by selling US dollars and through Bangladesh Bank Bills.
"It is time to increase the money supply as the demand for loans is rising gradually," he said, adding that liquidity supply can be enhanced by easing the repo system.
Abul Kashem Md Shirin, managing director of Dutch-Bangla Bank, said the deposit rate has increased, primarily due to the BB's circular issued in August regarding deposit rates.
"Business is getting back to normalcy, so is the demand for loans, especially trade finance rising," Shirin told the Business Insider Bangladesh.
He, however, said not all banks are facing a liquidity crunch. BB data shows a dozen of banks have three-fourth of the excess liquidity and of these four-state-owned commercial banks have around Tk 1 lakh crore excess funds.
Is there any impact of rising deposit rates on stock markets?
It is a thumb rule that when interest rates on deposit products rise money flows out of the capital markets as investors opt for secure return. And, when interest rates in financial institutions go down, money comes back to the stocks.
Recent trend in the stock market also shows that. Stock indices and turnover are declining constantly after months' of rise when deposit rates in banks were subdued.
DSEX, the main index of Dhaka Stock Exchange, shed 95 points or 1.36 percent on Wednesday.